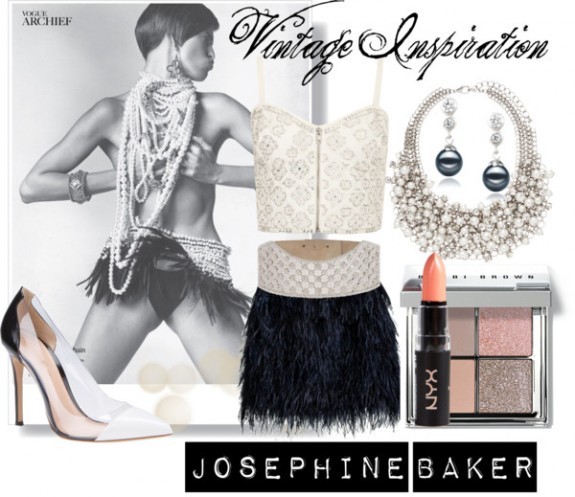 Hey Fashionistas:
We came across the image and it took our breath away! When it comes to beauty, class, edge and jazz, how can we ever forget the woman behind the woman that wore the banana skirt and pearls? Before there was Grace Jones and "her dare to be different" posing and unique and artistic style, there was Miss Josephine Baker and she was fabulous!
A woman of class and substance, "La Baker" was an amazing muse for some of the most recognized and influential artist in the world which included Langston Hughes, Pablo Picasso and Christian Dior. Famous for her burlesque dancing and her banana skirt dance for the stage play, Danse Sauvage, Ms. Baker was also a lady who believed in equality and before there Angelina Jolie, she adopted 12 children to show that people and live and grow in harmony becoming brothers and sisters.
Yes, "The Creole Goddess" was a wonderful philanthropist but she was also a woman with a lot of style. She was once the most photographed woman in the world because of her elegant taste in clothing and jewelry, especially the string of pearls that she wore during her performances and at social events.
So the style board that we created is to reflect the fire and beauty that Josephine Baker displayed when she was on stage. Instead of going topless with pearls, we love the pearl embellished bralet with a mini feather skirt and this white pearl embellished belt. Add a cluster of pearls for the neck to give that fully pearly look and dangling black pearl earrings from Pearls Only. Fierceness comes with the shoe that is black and white with pvc clear sides and for makeup use a light color for natural beauty and a little sparkle for glam. This is an amazing look for an amazing girl like you!
We honor the woman known as the "Black Pearl" and we know that her legacy will continue to live and inspire more women to embrace their inner beauty and display their outer beauty with the same class and pizazz.
Looking for the awesome pearl earrings? We attached a link below:
Colleen Earring Set Black AA 7-8mm Japanese Akoya Pearl Earring Set
What do you think about Josephine Baker? How has she been an inspiration to you?
(Visited 139 times, 1 visits today)