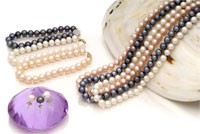 Nothing is more fun than doing it yourself and the feature below is a creative and fun activity!
If you are in love with pearls, and already have a collection for your ears, wrist, and neck, how interesting would it to add a few pearls to your hair?
This young lady, Kayleigh, shows use on her Youtube an awesome and quick DIY to wear pearls in your braid! It is so simple that we wish we would have thought of it sooner.
Here is what she used:
Pearls/Beads
Hair Elastic
Bobby Pins
Scissors
Ruler
Check out the video below:
To learn more about Kayleigh Noelle visit her blog at: www.soloveleigh.com
(Visited 287 times, 1 visits today)