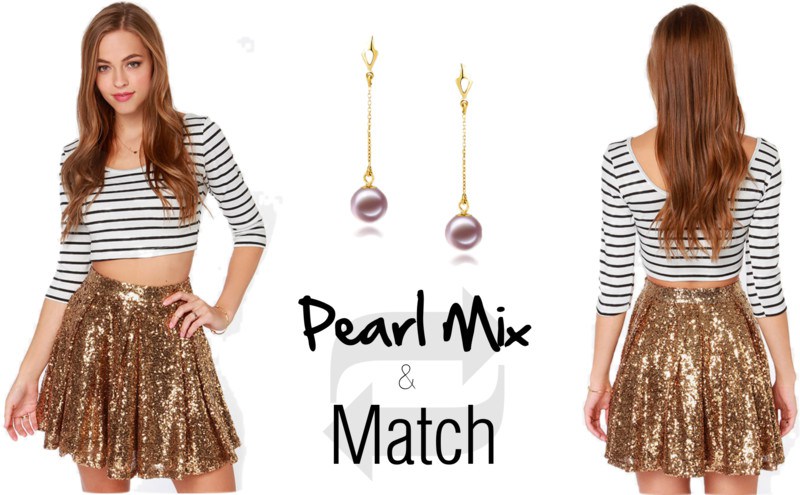 We, at Pearls Only, are forecasters of stylish must-haves items! This causes us to be constantly searching for items to add to our collection of great clothing and accessory items. We always look forward to sharing with you, clothing and accessories that you are in need of for your growing wardrobe!
Today in our "Pearl Mix & Match" we are going to show you a skirt and a pair of pearl earrings that are completely necessary to have this season! The great combination of a shimmery skirt by Lulus.com, and gorgeous pair of pearl earrings by Pearls Only is amazing!
It is time to stand out and make a statement with this fun and stylish trend of gold and shimmery sequins. What we like about this particular Cheers To You! Gold Sequin Skirt is that it is very fashion forward and who doesn't need  something fun and exciting in their wardrobe like a shimmery gold skirt! This full skater skirt has a fitted waistline and a chic mini skirt length that shows just enough leg without showing too much of everything else.
The best accessories for this skirt are the Misha Earring Set – Lavender AAAA 6-7mm Freshwater Pearl Earring Set because the combination of the lavender freshwater pearls and 14k gold, blends wonderfully with the sparkle of skirt.
To make a complete look, pair with black leggings, a pair of stylish knee-length boots, and a chic motorcycle jacket—totally daring and fly!
You can find the flirty skirt at Lulus.com  for $59 and the pair of earrings at Pearlsonly.com for $159.
What do you think of this look? Do you think that glitter and pearls work well together? Would you invest in these looks?
Are you interested in seeing more fashion-forward trendy clothing? Let us know…
Photo Credit: Pearls Only//Lulus.com
(Visited 80 times, 1 visits today)