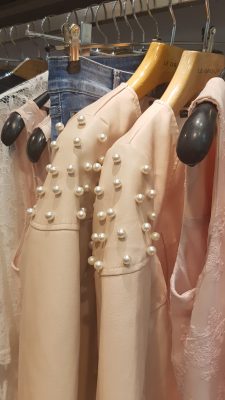 Pearl lovers, you will totally love this post! We bet you all noticed some pearl fashion trends that are accentuated this season. This spring and summer are welcoming every pearl touch you bring into your outfit. So, today, we decided to select some of the most obvious pearl fashion trends adopted by so many designers and clothing brands. Given the fact that pearls are so versatile and elegant, we don't blame designers for incorporating them into their collections.
In 2016, some of the fashion trends were seen in chokers and velvet. This season we are drowning in pearls used as embellishments. You may even consider some pearl trends unconventional, but they are purely amazing and they give an extra touch of glam to every garment.  Therefore, here you have our top favorite pearl fashion trends in 2017.
1. Pearls and Shoes  
Faux-pearl embellished heals, pearly decorations on leather or on satin textile material – these are only a few options of styling shoes with pearls. Be careful, because you need to wear a simple and clean outfit if you're planning to wear full faux-peal decorated shoes like the ones proposed by COLIAC . Gucci prefers to incorporate pearl in heels, which adds a sophisticated vibe to this classic pair. You can wear them with jeans or floaty maxi skirts.
If you want to create a more casual and relaxed look, here are some options. Zara proposes a pair of flat black sandals with three straps, with pearly detail on them. You can find another cute option at Asos. That big faux pearl instantly attracts the attention and these flat go with basically everything.
And…we saved the best for last! We just love this pair of supple black suede sandals by Nicholas Kirkwood. They are truly elegant  and that glamorous pearl which appears to be hidden in their heels, gives them a distinctive flair. Wear them and be ready for endless compliments.
2. Flirty, Pearly Skirts and Dresses
Faux-pearls embellished skirts and dresses? YES! The avalanche of pearls make the clothes look pampered and dazzling.  This Givenchy skirt has a ruffled, layered design which goes very well with the contrasting faux pearls embellishments. For a glam look, wear it with a tight top and sandals.
For a fresh look, go for this Gucci skirt. This lime-green mini skirt in an A-line silhouette is perfect for a day look. What is more is that it's finished with lustrous Swarovski pearls for a nod to British aristocracy. Exquisite! Be bold and make it the central piece of your outfit!
If you're tempted to try a whole pearly look, these are some really affordable options. Asos and Topshop have some very lovely pearl embellished dresses. In mint or black, you'll look stunning. And you don't have to spend a lot to look like a million bucks.
3. Blouses, Shirts and Jackets with Pearls
The pearl trend can be found in jackets and all kind of blouses. They look chic, elegant and inspire refinement.  Whether they are placed on silk, chiffon or leather, pearls instantly transform the garments and boost the glam. With this Givenchy blouse you can create a romantic look in seconds.
Moreover, this slim fit stretch-crepe jacket will make your jaw drop. This season suits are trending as well, so make sure to wear it with pants from the same material.  It's not too much if you add a pair of white pearl earrings.
Perfect for a day time look, here are two shirts from Zara, extremely affordable, lovely and in nuances of blue. Sky light blue and navy blue, both go well with pearly and creamy details.
4. Pearls on Denim
Denim and pearls? It may seem odd at first to mix these two elements, but they look gorgeous together. Just try this kind of pearl jeans and you'll get a cool, yet precious ensemble. With large pearl and chain embellishments, here's a modern take on classic denim.
Big size pearls, medium size pearls, tiny pearls, pearls and studs, you name it…creativity has no limits.  Take this pair for example: they come with pearl and bow embroidery. They are playful, fresh, and ready to be worn.
This denim mini dress is absolutely adorable with those iridescent faux pearls that playfully dangle along the hem. Since it has a relaxed flair, you can wear it with flats, sandals or even sporty shoes. Oh, and yes, you can totally add a pair of tiny pearl earrings.
As you can see, you have a large variety of clothing items that are decorated with pearls. We are aware that we did not cover all the pearl fashion trends, but we will continue this topic in the next blog post. There are so many accessories with pearly details that we can write pages. As a general observation, white pearl embellishments are the favorite ones since they can be mixed so well. Here is our pearl suggestion in case you want to create a DIY look.
To conclude, we hope you enjoyed this post and found some styling tips that you want to try out. Pearls will always be fashionable items and will give you the opportunity to create endless charming looks, so dare to experiment.
Image sources: 1, 2, 3, 4, 5, 6, 7, 8, 9, 10, 11, 12, 13, 14, 15, 16, 17, 18, 19, 20, 21, 22, 23
(Visited 258 times, 1 visits today)