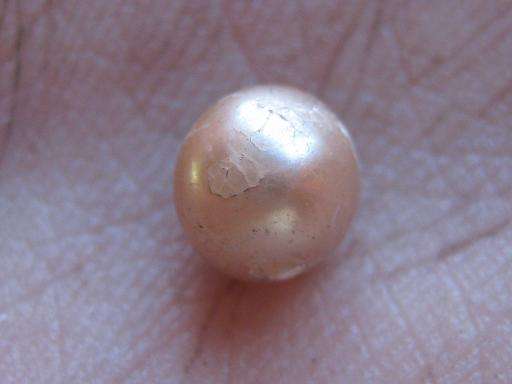 Back in 2011 a pearl was unearthed from an archaeological dig that was excavating a coastal aboriginal site in the Kimberley region of Western Australia. It was almost perfectly round, five millimetres in diameter and discovered in an area which was well-known as the heart of Australian cultured pearl production. The question posed by this discovery was whether or not this beautiful pearl was the creation of the modern industry, a tiny treasure that had almost been discarded and sunk down in the earth laying undiscovered until that day in 2011. There was a small chance that it was a genuine natural pearl. The latter explanation seemed unlikely but the researchers at the University of Wollongong were convinced of the authenticity of their find. The pearl didn't have the seed that appears on cultured pearls and exhibited the classic features of a perfect natural pearl.
Over the next four years the researchers ran tests on their find and used the latest technology to analyse and attempt to date the pearl. They had to be very careful not to damage it and were able to use carbon dating on the surrounding shell to establish exactly how old it was. Imagine their utter delight when they discovered that this tiny gem was around 2,000 years old. It is thought to be the only pearl ever recovered from ancient sites under excavation in Australia and has been described as irreplaceable. It is said to be in excellent condition in spite of its age and has a rose-gold tint. As the pearl has been buried under the ground for such a very long time the researchers are not certain if this is its natural colour. However they are all agreed that it is beautiful and unique and others will be able to share in this wonder when it is put on display at the Western Australian Maritime Museum.
The importance of this find cannot be under-estimated in archaeological terms. Studying shells at archaeological sites reveals much about the area's past. Australia is littered with many oyster shell middens, or prehistoric refuse pits. Oysters that produce natural pearls have been used in rainmaking ceremonies amongst aboriginal tribes throughout Australia. The surrounding desert is riddled with shell remains spread over a very large area covering a distance of over 900 miles. The discovery of this particular pearl dating back 2,000 years suggests that these cultural rituals stretch far back into the past. Its discovery is part of an unravelling history. Who would have thought that one tiny pearl could tell us so much?
The oldest pearl in the world was thought to be a 5,000 year old Jomon pearl found in Japan. However a pearl alleged to have originated between 5547 and 5235 BC was found in the Emirate of Umm al Quwain in the United Arab Emirates. It was discovered by French researchers at a Neolithic site in the Arabian peninsula. It is thought to be 7,500 years old and is a healthy 0.07 inches in diameter. Although there has been a series of finds in this area totally around 101 Neolithic pearls, this particular pearl is the biggest and best preserved. Diving for pearls was a skilled but very dangerous activity in these early fishing communities and this ancient tradition established mother-of-pearl as a very important resource for bartering and exchange. Fish hooks were made from the large oyster valves and were successful in luring in larger fish such as sharks and tuna. The pearls themselves were collected for their beauty, much as we are attracted to them today and used for adornment.
A more macabre alternative use for the pearls they risked so much to collect was to place them on dead people, on their face above the upper lip, in some sort of burial ritual. The significance of this has not yet been determined but it is probably due to the pearl having connections with beauty and strength which perhaps helped people in the after-life whilst signifying wealth. The Umm al Quwain pearl was itself recovered from a grave.
Another significance that has been revealed is that the custom at the time was to drill holes in the pearls. Half-drilled pearls were selected for men and full-drilled pearls were for women. In one way or another pearls certainly played an important part in these ancient civilisations.
And whilst we're on the subject of ancient pearls, back in Roman times the Egyptian Queen Cleopatra is said to have made a wager with Marc Anthony over whether she could spend a small fortune just in one single meal. She bet her lover that she could spend 10 million sesterces in one meal. The story goes that Cleopatra won by drinking vinegar in a wine goblet into which she had dropped one of her pearl earrings. The vinegar is reputed to have dissolved the pearl. It has always been presumed to have been more the stuff of legend, rather than truth.
However a classicist at Montclair State University in New Jersey attempted to replicate the pearl in a goblet meal with some considerable success. She placed a five-carat pearl in vinegar then waited for the chemical reaction to take place. The acetic acid dissolved the calcium carbonate – eventually! It took approximately 24 to 36 hours for the white vinegar to dissolve a pearl of around one gram. Other experiments have shown that if you crush the pearl and boil the vinegar the reaction time is reduced to nearer ten minutes. It makes you wonder how Cleopatra was party to that knowledge, but historians tell us that the queen was very intelligent and regularly carried out her own toxicological experiments. Marc Anthony was won over by her demonstration of scientific knowledge and dazzled by her knowledge as well as her looks.
At the end of the day pearls both ancient and modern continue to dazzle us today and they play a positive part in our modern society. Leaving the science and the history to one-side we continue to value them for their beauty and I am quite sure that this will continue to be the case for many centuries to come.
(Visited 132 times, 1 visits today)