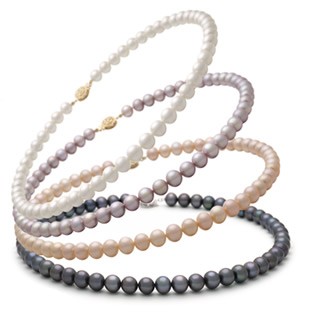 Pearls are not just for your grandma anymore!
Pearls have become a growing trend in fashion as they add a since of class and panache to bright colored clothing like ruby reds and emerald greens. Perish the thought of wearing just a thread of white pearls because pearls can be found in an array colors including black, pink and lavender. There are also a variety of styles and setting to choose from. Whether the pearl is in a star setting surrounded by diamonds or a cluster of pearls wrapped perfectly into a double strand necklace, pearls are the new go-to pieces to accentuate your wardrobe.
When wearing a white pearl necklace, it helps to brighten and make your blouse stand out. Pearls are also a fashionable way to dress up what many would consider dressed down. Think of doubling or tripling your strand of pearls and creating arm candy. You can also add a few hard gold bangles to make your arm the major focal point of your style. A great look with pearls is a red button down blouse and leather pants or blue jeans for the "All American Girl" look.
There are countless ways in which you can adorn your string of pearls, but we have come up with twenty-one ways that will take your look from great to amazing!
Check out the images below and find the look that best fits you.
Triple knot
Triple Strand with brooch
Double Strand choker with hang
Ribbon twist
Classic uneven double strand
Triple Strand with a ribbon
Classic Triple Strand
Anchor link
Triple Strand choker with cluster of jewelry
Double strand with flower Pins
Long double strand
Triple Strand layer with butterfly pin
Choker with long knot
Twisted knot short strand with ribbon
Quadruple Strand choker
Backward choker with long knot
European tie
Uneven choker and long strand
Uneven double strand with flower brooch
Classic uneven 3 strand
Double strand rainfall
What are some of the ways that you wear your fabulous pearls? Share your ideas…
(Visited 172 times, 1 visits today)