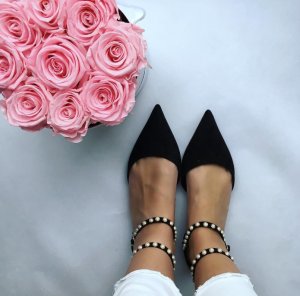 Our love for pearls and pearl embellishments continues! Today's post will show you a selection of pearl shoes that can be incorporated into our summer outfits. Keep reading because we will show you some wonderful outfit options accessorized with gorgeous, easy to wear shoes with pearls.
First of all, this summer gave us the opportunity to experiment a lot of trends and styles. Some of the last summer trends were kept, but the new ones are just reinterpretations of the 90's trends. A variety of pearl embellished clothes and accessories were presented by famous designers and ended up in our wardrobes, but the most popular item is without any doubt that pair of pearl sandals.
Whether they are simple flats, slides, heeled sandals, they are present on the streets. You saw them, we saw them and instantly fell in love with their versatility and glam vibe. Pearly decorations on leather or on satin textile material are only a few options of styling shoes with pearls. Plus, the effect is absolutely exquisite.
What makes this post extra special is that we gathered 19 Instagram users (fashion lovers or bloggers) who have at least one thing in common: they are all pearl shoe lovers! Thanks to all the lovely ladies who allowed us to use their photos, we can actually illustrate their elegance and show you some amazing and creative outfits that integrate these popular pearl shoes.
PEARL SLIDES
The 2017 summer brought back in style one of the most famous 90's trend: the slides! Shoe slides were extremely popular back then and were the first option for creating casual and relaxed looks. And what slides can now be cooler than pear slides? They've taken these shoes to a whole new level with the fun and pearly embellishments.
Going to the beach, a family cozy gathering or a shopping session? We've got you covered! How cute are these pink slides with pearls?
Just look how many outfits you can create with just one pair of pearl slides. Nicole did a pretty awesome job!
These nude flat slides with pearls are absolutely fantastic. They go with basically any kind of outfit.
As you can see, you can easily create chic and effortless looks with these pearl embellished shoes. You can mix them with a dress, jeans or skirts.
PEARL SANDALS
Pearls sandals can instantly lift up your outfit and your spirit. With heels on no heels, they are an excellent choice for creating remarkable looks. They may seem difficult to wear, but that's not true.  Our advice is to let the pearls shine. As you'll see in the next photos, you have two options to wear sandals with pearls:
 pearl flat sandals, perfect for monochromatic outfits, simple or floral dresses; the delicate pearly details will immediately bring you compliments.
Once again, Nicole is showing us two different looks with the same pair of pearl shoes. We just love her love for pearls!
2. high heeled sandals with pearls, ideal for extravagant and sophisticated outfits, glammed up with a pearl touch (pearl anklets or pearl embellished heels).
Your jeans never looked that good with these pearl sandals!
SHOES WITH PEARLS AND RHINESTONES
Can we all agree that these shoes with pearls and stones are truly gorgeous and precious? Look how well they compliment the entire outfit.
Jina and Liat have the same model, but on different colors. Both of them created stylish and trendy looks, ideal for this summer.
Oh, and check out these beauties!
COMFY PEARL SHOES
If you're looking for other types of shoes, like espadrilles or slip-on sneaker, here are some comfy options, embellished with (faux) pearls. You can quickly create casual and relaxed looks, perfect for long walks or visiting new cities.
Finally, if you love pearl shoes as much as we do, it's up to you how you incorporate them into your outfits. Whatever makes you feel great, comfortable and relaxed, will work for you. We only showed you few outfit suggestions to inspire you.  As a bonus tip: if you want to extend your pearl adoration, then accessorize your outfit with this simple pair of pearl earrings. As you could see, you can easily create multiple looks by using the same pair of pearl shoes or flats. And the outcome is different every time! Have fun. Experiment. Summer is not over yet, so show off your pearls! ?
(Visited 309 times, 1 visits today)