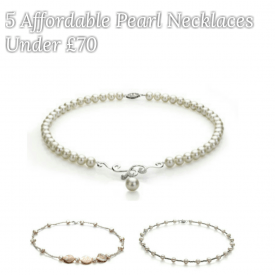 Hello, pearl lovers! Today we will introduce you to 5 affordable pearl necklaces that are exactly what you need when you're on a budget. What we love about them is that they all look as if you spent much more on them. They really represent some elegant options from our finest collections and all of them cost under £70. Maybe you did not have the time to search through all of them or maybe you did not realize that we also have pearl necklaces at lower costs (this does not mean that they have a lower quality), but PearlsOnly can also make you look exquisite without spending too much money. We care about all our customers, so we are constantly looking to satisfy all your needs. Because we want to make your job even easier, we also offered an outfit suggestion for each pearl necklace.
So, here is our list of 5 extremely affordable pearl necklaces that can beautifully adorn the nape of your neck.
1. The Pearl Necklace in Atina White
This white pearl necklace is only £49… A true bargain! This is one of our most affordable pearl necklaces. White is always a great option because is extremely versatile and it can complement any figure. Having a white pearl accessory like the Freshwater Cultured Pearl Necklace in Atina White is more than having just a white accessory. If you visit our collection of necklaces, you'll find the same version in black or pink. With this freshwater cultured pearl necklace, you can make an appearance everywhere. The pearls are not wearing you, you are wearing the pearls. Their size of 6-7 mm is suitable for all ages and the overall AA luster gives them that shimmering countenance. Since white goes very well with its opponent color, you can never go wrong with a black dress and high heels. You see? You don't have to spend a fortune to look fabulous!
Here is our outfit suggestion:
2. The Petite Drop White Necklace
Whether you want to create a precious look or to simply wear a classic white pearl necklace on a special occasion, the Drop White Necklace will make you stand out without any doubt. And it costs only £65! In addition, the petite 3-4 mm drop style pearls create an adorable look and the tear drop dangling pearl is that fine detail that brings a plus of sophistication. You can wear it at a formal evening out, at a day reunion with those friends your haven't seen in a long time or at a date romantic date. This pearl necklace gives you endless options! As a result, we are confident that this petite and graceful freshwater cultured pearl white necklace will make you fall in love with it!
Here is our outfit suggestion:
3. The Ashley Necklace – a Bohemian dream
Number three in our list of most affordable pearl necklaces seems to write its own fairy tale: "The Bohemian Dream". If you want to complete that boho-chic outfit that fits your style, here's a wonderful choice: the Freshwater Cultured Pearl Necklace in Ashley White, at only £49. As you can see, this necklace will definitely be the chic detail that you need to create that flawless look. The 3.5-4 mm various shaped pearls and the swirling pattern in the shell's appearance create a natural, friendly, and fresh vibe. You can wear this pearl necklace with a loose shirt dress, ankle boots and a cardigan in a warm tone or a wavy beach dress and flats. You'll definitely be spotted and remembered!
Here is our outfit suggestion:
4. The Pearl Necklace in Sophia Black
We all know that black pearls are often associated with mystery and sophistication. But, when you mix them with metal engraved accents, tiny white pearls, and wire stringing, then you get a unique and stunning combination! You can wear this Sophia Black and White 5-7 mm A Quality Freshwater Pearl Necklace with a white shirt or silky blouse to make the black pearls pop. You will be absolutely charming! Having to spend only £49 on it, you'll be able to spend extra on shoes. It will instantly give you a hip and chic vibe! If you are planning to offer it as a gift, we can assure you that you will actually offer that special person a valuable and wonderful memory!
Here is our outfit suggestion:
5. The Pearl Necklace in Paige Pink
If you really want to be original, then you should try wearing this really interesting Freshwater Pearl Culture Necklace in Paige Pink. You don't have to spend a lot – only £45. Intriguing and delicate in the same time, this pearl necklace has an attitude. The pink pearls, plastic and metal beads are blended in an elaborated design. This is no ordinary pearl necklace, so pair it with a fabric that you wouldn't normally wear it with pearls. We suggest wearing it with a denim dress – the length is up to you. We are confident that this necklace would be an excellent choice because you deserve to look spectacular! This is the last item from our list of most affordable pearl necklaces, but make sure to visit our shop because you will find more options!
Here is our outfit suggestion:
Our beloved readers, this was our top 5 affordable necklaces, but we can't pick a winner because we love them equally. So, what is your favorite pearl necklace from this list? Is any of them matching your style? Do you like our outfit suggestions? Tell us by commenting on this post. We would be more than happy to find out your answers.
In conclusion, PearlsOnly wants to connect with you more! Therefore, you are encouraged to comment on each post and leave your impressions! Also, feel free to tell us what topic you want to be covered in the future.
(Visited 165 times, 1 visits today)