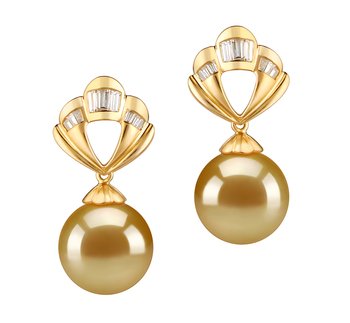 Desirable, yet affordable. Explore the world of South Sea pearls by owning your own pair of South Sea pearl earrings. They will accentuate your love for natural beauty and they will reveal yours. Just like the necklaces, the South Sea pearl earrings will brighten up your face features and make you truly glow in a sensual, yet discrete and feminine manner. This post will show you six exquisite pairs of South Sea pearl earrings that will make you fall in love with pearl jewelry. Read more to find out what makes them so special and how you can wear them.
The South Sea pearl earrings represent a landmark collection for us. Embrace your female coquettishness and make it a source of pride. Accessorize it with the right pair of real pearl earrings and you will look your best. But even with all that, we may still need every once in a while a little bit of a style boost to complete our look.
WHAT COLORS DO SOUTH SEA PEARLS COME IN?
South Sea pearls come in a unique palette of colors and shades ranging from a bright white to a deep yellowish orange. The majority of South Sea pearls are white, cream or silver. Their overtones are usually rose, green and blue. The opulent golden pearls are produced by the golden-lipped oyster (Pinctada Maxima). Here are Pearls Only we are lucky to have a collection of silvery white and golden South Sea pearls. Very large and classic white cultured South Sea Pearls are simply breathtaking. They range from brilliant white to a silvery sheen. Golden South Sea cultured pearls have a rich golden shine.
It takes almost two years for the golden lipped oyster to produce golden South Sea pearls. They are best paired with beautiful yellow gold. South Sea pearls are larger than Freshwater, Japanese Akoya, and even Tahitian pearls.  Most Golden South Sea pearls are harvested in Indonesia and the Philippines. Only a few of them are brought from Australia. Since they are the largest and rarest pearls available on the jewelry market, this makes them fabulous luxury items.
HOW TO PICK THE RIGHT PAIR OF SOUTH SEA PEARL EARRINGS
Appropriate for casual, but mostly for festive occasions, this type of pearl earrings will flatter elegant outfits, making the wearer look charming and distinguished. Are you thinking which pair is the best for you?  We will give you a hand. Next we will try to give you some quick guidelines that will help you choose your perfect pair.
First of all, you should consider the earring type. Our collection includes pearl stud earrings and pearl drop earrings with South Sea pearls.  For example, White South Sea pearl stud earrings are the most delicate option for petite women. Plus, they flatter women with all complexions. Gold South Sea pearls are the epitome of opulence and elegance. A pair of Golden South Sea pearls is a fabulous option for a special event where you have to wear an evening gown.
Next, think about the pearl color. What color matches your personality and wardrobe best? White South Sea pearl earrings can be paired with casual and elegant outfits. They will discretely accentuate a woman's femininity. As a result, they are appropriate for semi-formal events, while Golden South Sea pearl earrings are perfect for formal attires, extravagant and sophisticated appearances.
Also, consider your personal style and taste. Sophisticated ladies with an eye for details will fall in love with a pair of White South Sea pearl drop earrings, while Golden South Sea drop pearl earrings are for woman's with a bolder approach, not afraid to conquer all the attention.
Take into account the occasion and the context. Are you planning to buy them for you or as a gift (take into account her tastes)? As we have noticed, younger women will appreciate a simple pair of stud earrings, while more mature women are better suited with a pair of luxury South Sea pearl drop earrings.  Next, are you going to a birthday party or are you attending a special anniversary? The more formal the event, the more precious and special the pair of earrings should be. Don't be afraid to pick the pair encrusted with shining diamonds. They are not too much if the event you're attending takes place during night time for example.
WHITE SOUTH SEA PEARL EARRINGS
1.  A pair of earrings with classic design that you can wear all day long. The cutest choice for a pair of earrings are button shaped studs. Suitable for young pearl wearers, a pair of pink button earrings will make a great sweet sixteen or graduation present. Delicate and feminine, they don't overwhelm the outfit and can easily be paired with other accessories or with a matching pearl bracelet.
Material: Yellow Gold
When to wear them: perfect for day-time wear, parties, family gatherings, engagement parties, bridal showers.
How to wear them: with casual clothes, flower print dresses, or with the little black dress.
2. A pair of white pearl earrings like the South Sea Cultured Pearl Earring Pair in Bianka White is ideal for every glamorous outfit with its feminine and irresistible sparkle/glow. Lavish hanging earrings made of real South Sea pearls, featuring delicate classy detailing and diamond accent that surely will make the difference to your look. Trust us! Crafted with clear South Sea pearls with yellow gold details that swing naturally with your head.
Material: Yellow Gold, Diamond
When to wear them:  at weddings (also perfect as delicate bridal white pearl earrings), at the office, at casual or formal meetings.
How to wear them:  they are the perfect accessory for a bride to be. For other occasions, we suggest wearing them with long dresses, silky blouses or even as a
3. Here you have the Pearl Earring Pair in Ivana White. It features pressed details with shimmering diamond accents. Match it with the necklace of the same collection for an evening ride.
 Material: Yellow Gold, Diamond
When to wear them: parties, weddings, and formal events, dates, night outs or fabulous events.
How to wear them: wear them with evening gowns, cocktail evenings, special anniversaries.
GOLDEN SOUTH SEA PEARL EARRINGS
4. Create the most fashionable look wearing this classic pair of Golden South Sea pearl earring studs made in 14K yellow gold and, that express the whole meaning of elegance. Contemporary with a side of timeless classiness, they work great with both formal and casual attire. Set on stud posts with butterfly backs, these South Sea Gold Pearl Earrings will become your favorite go-to pearl accessory.
Material: Yellow Gold
When to wear them: parties, weddings, and formal events
How to wear them: We suggest wearing them with your hair up or down in a chignon, for an extremely chic look.
5. This South Sea Cultured Pearl Earring Pair in Damica Gold is here to stand out. This darling pair will put you in the spotlight every time that you are wearing them. The perfect blending of two golds into one magnificent set is amazing.  There 10-11mm gold pearl diamond accented earrings are hard to miss in a room of people. The mirror like luster of the Gold South Sea Pearls make this earring set a must have set in any armoire.
Material: Yellow Gold, Diamond
When to wear them: at the office, cocktail evenings, birthday celebrations, anniversaries.
How to wear them: wear them with silk blouses, a pair of elegant trousers and your hair up.
6. Enjoy the timeless elegance and unique style with these classy South Sea Cultured Pearl Earring Pair in Helena Gold.These sophisticated dangling earrings flaunt two beautiful perfectly shaped golden/silver South Sea pearls. A unique piece that will give you glam to your appearance, impressive and ideal to be worn for cocktail evening meetings.
Material: Yellow Gold, Diamond
When to wear them: parties, weddings, and formal events.
How to wear them: they look absolutely stunning with strapless or backless dresses.
The pearls is a feminine symbol. Correlated with the purity of pearls, it gives you the right dose of sensuality. Make a meaningful gift to the woman you appreciate. Add a mysterious subversive mood to your appearances.
To conclude, these were our finest real South Sea pearl earrings made by our designers. They are truly unique and remarkable pieces that conquer anyone's undivided attention. Accompanied by diamonds, rhinestones or precious yellow gold – it is totally up to you how you want them to be. Our role is to make your experience as lovely and as exquisite as possible. Don't you love that fine moment when you open your jewelry box and you see your pearl earrings shining delicately? Pearls Only simply wants to be part of that wonderful experience and an elegant addition to your pearl jewelry collection. Dare to own your own little pair of luxurious South Sea pearls earrings.
(Visited 297 times, 1 visits today)