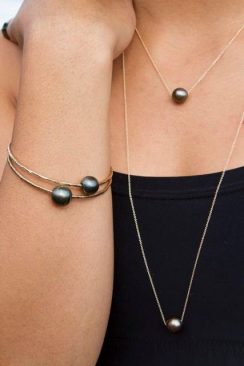 Pearls are always appropriate, said once Jackie Kennedy, whose signature necklace was a three strand pearl choker. Decades after these famours words were uttered, pearls still rank high in women's preferences. Tahitian pearls, for example, are very popular in the marketplace today, not only thanks to their exotic origins (they are harvested by farmers in French Polynesia), but also their multicolor varieties and special shapes. A Tahitian pearl necklace is a very classy and elegant piece of jewelry, that can easily make you stand out from the crowd at any moment of the day.
Whether you choose dark black or grey to match with your outfit and hairstyle, such a necklace will not go unnoticed. What makes Tahitian pearl necklaces very special is their magical natural color, because dark pearls capture light and deliver it back in a very incandescent glow. Although traditionally they are called black, their color can range from metallic silver, purplish, blueish or greenish overtones, to the color of graphite. The difference between black freshwater or black akoya pearls and the Tahitian ones is that, while the former have been irradiated or dyed, the latter come by their dark color naturally. These gems look great with every skin tone and match all kinds of eye color.
Choose to be glamourous by wearing a Tahitian pearl necklace during at least one of these occasions:
1. Graduation day
You just finished your master's or doctorate degree and this is the highest peak in your educational journey. You have to look sophisticated, as this is a great accomplishment. You can wear this Tahitian pearl necklace, with aquamarine and green pearls that will give you a very joyful and attractive look. Even Mikimoto Kōkichi would be jealous of this jewelry piece, which can brighten the whole room.
2. Birthday party
You always get nervous and excited whenever your birthday is coming up, but when you're turning 30, it calls for a special and long celebration. You are a mature and independent woman by now, so what better way to show your class than a Tahitian black pearl necklace? The beautiful luster of these 11.3 – 12.2 mm pearls will make you shine, so if you are planning on wearing a little black dress too, then you can rest assured, your appearance will be breathtaking. If you are turning 21, you can still rock the Tahitian pearls with a leather pearl choker.
3. Meeting the parents
This is an event that is all about first impressions. To impress, it would be a good idea to go for a semi-formal outfit, to which you can add a Tahitian pearl pendant necklace, with a single beautiful pearl. This semi-conservative appearance will allow you not to strike the eye, while at the same time the gracefulness of your attire and jewelry piece will reflect your impeccable style. His parents will fall in love with you too!
4. Business meeting
Making a good impression at your workplace is essential, as your job represents a big part of your life that you cannot neglect. When having a business meeting, go for the classic pencil skirt and a colored shirt, while wearing pearl earrings and a very delicate Tahitian cultured pearl necklace, with uniquely sized 9-10.5 mm black Tahitian pearls. The fine silk thread and double knotts between each pearl will protect their lustre and surface, while your overall look will be a very elegant and formal one.
5. Engagement party
You are surrounded by your family and friends, this being your first party as to-be-wed couple. Being such a special occasion, you need to dress accordingly and find the best jewelry set: a beautiful cocktail dress and a Tahitian baroque pearl necklace will do the trick. This way, you will not outdo your wedding day look, but you will still stand out from the other guests, lighting up the room.
6. Wedding day
This is one of the biggest days in your life and it requires a very special treatment. Everything has to be perfect, from the dress and the shoes to your make-up and jewelry. Choose a multicolor Tahitian pearl necklace with a unique shape and design, the diameter of the 35 pearls being of 11.1 – 13.42 mm. The spectrum of colors of this extraordinary necklace will give you a gentle, yet striking appearance, so keep this option in mind because memories last forever and it is your day, after all!
7. Christmas party
This gorgeous necklace with greyish Tahitian pearls will match perfectly with your red cashmere dress, which you were planning on wearing for the Christmas party. Santa will not be the only one bringing you presents, all the other people in the room will be charmed by your appearance and you will be constantly receiving compliments from everyone. Your smile and necklace will be the best accessories of the night!
Lucky for you, these are not the only occasions that you can dress up for and wear wonderful pearls. You can wear a beautiful Tahitian pearl necklace when you get a new promotion at work, you can go for a Tahitian black pearl necklace whenever you and your best friend celebrate you 5 or 10 year anniversary and you can even give her a similar jewelry piece as a token of love and appreciation. Whenever you travel abroad, make sure to have a Tahitian baroque pearl necklace with you, as you never know when the occasion to wear it might show up!
If you just finished a very long and complex project that required tens of hours of working, mark the occasion! Book a table at a fancy restaurant and have dinner with your significant other, while wearing a beautiful white or grey dress matched with a multicolor Tahitian pearl necklace. In fact, whenever you feel happy and you want your inner glow to match your appearance, do not forget to embellish your outfit with your pearls!
(Visited 189 times, 1 visits today)