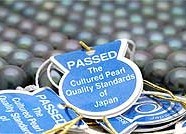 Akoya pearls jewelry is simply the best. Akoya jewelry is sought after and prized by some of the most discriminating jewelry collectors all over the world.
Lustrous Akoya pearl jewelry is beautiful to wear for any occasion. From the office to a casual lunch, Akoya jewelry is just the right touch of elegance and class. For that special or formal event, nothing makes a statement like the perfect piece of Akoya pearl jewelry. There's simply nothing like it!
The wonderful luster and glow of Akoya pearl jewelry makes it one of the most popular and classic jewelry pieces world-wide.
Akoya pearl jewelry is available many forms, from earrings to bracelets and pendants to earrings. So there is the perfect Akoya jewelry for every woman and every occasion.
Akoya pearl jewelry is made from pearls cultured in the Akoya oyster. Of all jewelry, Akoya jewelry is still one of the enduring classics and one of the most popular today.
Akoya pearl jewelry has a superb luster as the Akoya pearl oyster lives in colder waters. This colder water helps it to secrete thicker and more lustrous mother of pearl or nacre. As a result, Akoya pearl jewelry is so prized.
Beautiful pearls produced by the laborious and time consuming Akoya culturing process are most definitely worth it. Pearls found in Akoya pearls jewelry are typically very round with colors ranging from white, to creams and light pinks. These colors are very popular for Akoya pearls jewelry.
(Visited 89 times, 1 visits today)