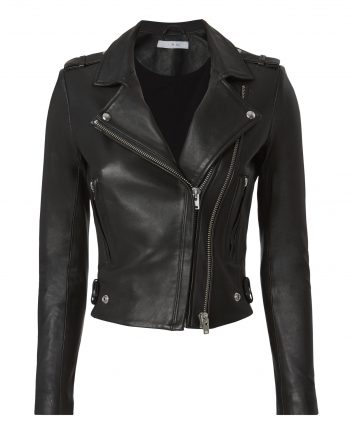 The brisk mornings are starting to appear, ladies. So, what are we going to wear this fall? The major trends of fall 2017 are out there on the streets, but are all of them adequate for you? Today we're going to cover 7 trending fashion fall items in black that will never go out of style and will stand the test of time. Black clothing was never about hiding yourself. Actually, a head-to-toe black look is a statement. Let's rock the runway trends together and get back to black! Read more to discover the most stylish black fashion items that you should have in your wardrobe this season!
It's officially time to think about fall. Apart from leaf-peeping, apple picking, baking pumpkin pies and drinking all kinds of hot beverages, we're also re-unfolding our sweaters, scarves, jackets. In case you're in need of inspiration for this fall, we got some inspiration from the New York Fashion Week. this trending black clothing items and accessories are exactly what you need. No one wants a boring, sad, gloomy outfit while experiencing this weather, so let's style up this autumn!
We love promoting timeless pieces that will always be wearable and fashionable. Don't you just hate it when you buy something that is considered out of style the next year? A total waste of money! When buying something, versatility is key! Therefore, shop the essentials in order to create your own looks. Easy to access and to find, black fashion items help you build smart and sharp attires.
Do you know any other colour that's darker than black?! That's what we thought. Nothing is more intriguing and fascinating than black. Inspired by the biggest trends seen in stores  and runways this autumn, here is our top 7 most versatile black clothing and accessory items for this fall.
7 BLACK CLOTHING ITEMS & ACCESSORIES TO GET YOU BACK TO BLACK THIS FALL
1. The black trench/coat
One of the most indispensable fall items is a black trench. A trench or a coat is something that everyone owns, but is it the right one? Take a look at the photo selected. This trench design is actually very fashionable; modern and classy at the same time. It is not the typical beige one. Notice how the black color adds a touch of glam and sophistication? Plus, it hugs your figure on all the right places. It is designed for a loose fit, so use the belt to cinch in at the waist.
2. The Black Leather Jacket
Everyone has a black leather jacket…or at least everyone should. It is one of the most stylish, yet practical fall items. A black leather cropped motorjacket is something that you can wear no matter where you're going since it has such an urbane vibe. It suits all styles and tastes because it can be paired with so many items. What's more is that it makes you feel fierce and ready to conquer the day.
3. The Black Sweater Dress
Now this is another extremely versatile fall clothing item. Plus, this kind of dress is flattering for any figure because it's not tight on your body. You can wear the black sweater dress with basically any type of shoes: combat style boots, ankle boots, heeled boots, flat boots, sneakers, over-the-knee boots, you name it. It is so practical and easy to wear and the turtle neck invites you to wear your hair up. Being a throw-on dress, you save a lot of time and you can create multiple looks. A pair of black matte tights, a black leather jacket and you're good to go!
4. The Black Boots
Low heeled or high heeled, black boots are definitely a must! Ankle boots are a dependable fall and winter staple, and they don't get much more sophisticated this pair right here. Easy to pair, they are part of those fall trends that will exist next year and so many years from now on.  Give your edit a dose of tough menswear-inspired edge with some powerful combat boots. Pick the pair that reflects your taste and flaunt it this season. They are irreplaceable if you want to achieve a dashing appearance!
5. The Black Clutch / Bag
Your outfit is not complete unless you add a beautiful black bag. Avoid the backs that don't have rigid cuts in order to look dressy. Saggy bags are not doing you any favor if you want to have a clean and modish outfit. So go for the classic cuts, like the one we've picked, because you'll have better chances to wear them the next years as well.
6. The Black Pearls
Remember our guide on how to wear black pearls? Take everything into account and now, try to mix them in order to create an all-black outfit. Dyed black pearls are sumptuous, exquisite and they emanate luxury. They make excellent accessories for the entire day, but they are key pieces for evening black tie events. You can opt for graceful Tahitian pearls, flawless Japanese Akoya pearls or versatile freshwater pearl pieces. Whichever type you choose, the results are guaranteed to make the recipient feel special. A black pearl necklace or a pair of black pearl earrings can add that chic note to your look. Discover our entire tasteful collection of black pearls and create your own sensual looks.
7. The Black Gloves
This accessory can either complement your outfit, or it can ruin it. For a complete fanciful all-black outfit we recommend gloves made of black leather or suede leather with cashmere lining. Avoid encrusted gloves because sometimes they can look tacky. Fine and elegant details like these grosgrain bows are absolutely welcomed. Plus, the heart shape cut make them stand out for sure.
All-black ensembles will never go out of style. That's for sure. As a result, let's embrace them. Whether you're experimenting with a fun piece or you want to stick to the basics, all-black outfits are a no-fail option for any contexts. But instead of portraying dull outfits, let's create black outfits that display elegance and refinement. Weather for sweater? As you could see, you have various options. Cold seasons are ideal for wearing black because you can add as many accessories as you wish and you're not attracting the heat of the sun. A simple black outfit is instantly spiced up with the right black accessories, so whether they are pearls, belts or gloves, that's entirely up to you. We hope all the black items we have covered here will inspire you to create classy and fashionable outfits this fall. May you have a wonderful and inspiring fall!
(Visited 111 times, 1 visits today)