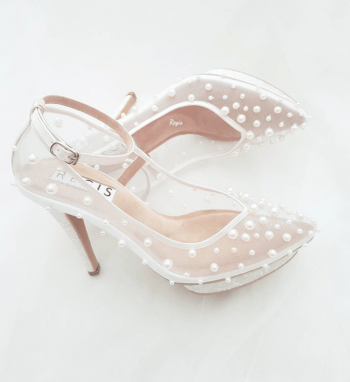 Planning your wedding can be stressful, so we will give you a hand by telling you how to pick your perfect wedding shoes. For those of you who want to have a pearl inspired bridal appearance, we selected pearl wedding shoes that will match every wedding style. We all know that finding the right wedding dress is the essential task, but what about the wedding shoes? This is also another important wedding accessory, before any other bridal accessories. So keep reading to find out tips and tricks on how to find the ideal bridal shoes.
First of all, we want to thank all the bridal shoe shop owners and designers who accepted to be featured in this article. We especially selected pearl wedding shoes because of our love for pearls, and secondly, for their versatility and timeless elegance. All the presented creations are absolutely gorgeous and suitable for any bride who wants to look fabulous in heels or in flats!
PEARL WEDDING SHOES ARE PERFECT FOR EVERY BRIDE
Not sure if they are a good option? Wedding shoes with pearls are ideal because they can be easily matched with your wedding dress embellishments, your bridal hair accessories or the cake! What is more is that pearls will never go out of fashion and they can be worn on other occasions as well.
1. Your personal style and the height of the heel are extremely important
If you're the kind of woman who wears heels all the time, then you should definitely make no exception on your wedding day. Find the most glamorous pearl bridal shoes that will compliment your dress! A properly executed heel will not cause you any pain.
If heels are not part of your daily lifestyle, then you should go for a medium heel or a pair of flat wedding shoes or sandals. If you like chunkier heels this is good because you'll have a better balance. Stiletto wedding shoes are a challenge for dancing, so flat shoes might be your solution. Flat bridal shoes with pearls will give you a remarkable elegance. Another important aspect is to adjust your wedding gown according to the heel's height.
2. The wedding venue will dictate what kind of wedding shoes you should wear
If your wedding ceremony will take place on a beach, then we highly recommend flat wedding sandals with pearls like the ones below. The heels will sink and your walk down the aisle will not look graceful at all.
Moreover, heels on a lawn are also uncomfortable and totally not appropriate unless you're having a carpet on top. But if you want to avoid any tricky situations, wear bridal flat sandals for the ceremony and heels during the reception. You don't want to ruin your shoes and look embarrassed, don't you? So make sure your pearl bridal shoes are appropriate for the event!
3. Pick two pairs: one for the photos & one for the wedding party
Having a back up pair is a safe choice and one of the best recommendations. This way, you get to have an elongated look in the photos, you can receive your guests with style and then you rest in a more comfortable pair. But comfortable does not mean plain or boring. A pair of flat wedding shoes with pearls is a fabulous alternative.
An important tip would be to make sure you have your wedding gown adjusted in order to have the proper length for whatever shoe you decide to wear for your wedding ceremony. You first want to make sure the dress has the appropriate length for the pair with lower heels (or no heels at all). Just take a look at these options: wedding flat sandals with pearls embellishments.
4. The color of your wedding does not necessarily have to match the color of the dress
There are of course wedding gowns with designs that require almost the same color of the dress. But if you wear a simple and elegant wedding gown, then a splash of "something blue" is a great option. And beige sandals are great for an unconventional wedding dress!
5. It would be lovely to have matching pearl shoes for the bridesmaids
This kind of pearl shoes can be worn by your bridesmaids too! They will match your style, which is great for photos. Plus, they will thank you for offering them a comfy and stylish option for their feet.
6. Don't forget to pick the perfect pearl shoes for the honeymoon
A fun practice is to keep your wedding theme in your wardrobe even after the wedding day. And honeymoons are a perfect pretext to keep that wedding glam going. These pearl flat sandals are absolutely chic, comfortable, and pretty enough to be worn during long and romantic walks. Plus, they are perfect for Instagram-worthy photos 😊
7. BONUS TIPS:
Make sure to wear your bridal shoes before your wedding day. Stretching them before the big day will help you avoid blisters. You can actually wear them during the dance lessons. Also, consider placing some shoe grips too, in case they are slippery.
If you can't find matching wedding shoes at the bridal shop that designed your dress, you can have them made at a shoe designer. Or, in order to find the right color,  you can take a piece of fabric with you while you go shopping.
Make sure to ask your photographer to photograph your shoes separately. You will want to have a separate elegant photo of them.  The mesmerizing wedding decor will help them stand out!
Any of the pearl wedding shoes we showed you can definitely be worn on other occasions too! You don't have to put your bridal shoes back in the box after the wedding because the pearls will help you achieve a stylish look on other events you have to attend.
In the end, we hope you enjoyed our selection of pearl wedding shoes that are definitely out of the classic pattern of bridal shoes. Exquisite pearl details, like the ones we've seen on the above creations, are the reason why wedding shoes with pearls are such an elegant option for the brides who want to have a memorable look!
(Visited 958 times, 1 visits today)