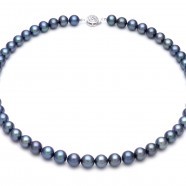 There is no doubt that the most sought after necklaces in the fashion world today are made with the black pearl from French Polynesia. Legend has it that Ono, the Polynesian god of peace and fertility, gave a black pearl to the princess of Bora Bora as his sign of eternal love.
Today, black pearl necklaces continue to be seen as a gift of romance and love. They make the perfect anniversary, birthday or Valentine's gift. Necklaces are made with black pearls generally averaging about 10mm across, but some are as large as 18mm. These necklaces are often described as lush, opulent and indulgent. Women sporting a black pearl necklace will always be noticed. Because of the differences in the luster and size of the black pearl, every necklace can be considered as a work of art.
A wonderful aspect of any pearl necklace is that it offers the option of being worn not only with formal wear, but as semi-casual as well. The exotic nature of a black pearl necklace and its rarity the prices of this type of jewelry can range from a modest $100 up to $10,000 for the largest, most perfect pearl. Some women wearing these necklaces report a sense of walking among the pristine beaches of Polynesia on a warm, moon-lit evening.
(Visited 79 times, 1 visits today)