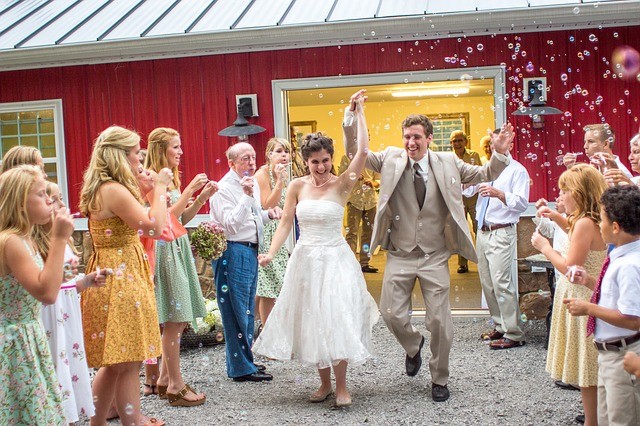 As you are aware, it is traditional that when getting married a bride can wear pearl jewelry on her special day.  If you have the opportunity to attend a wedding in the next few months you are probably wondering if guests can wear pearls.   This is because you know that any kind of pearls will add a touch of style, class, grace, and beauty to your wedding attire. In fact, they are the perfect accessories that can be worn to any kind of wedding these days.
So Can Wedding Guests Wear Pearls?
Any wedding you attend is a special event but still have the opportunity to have fun.  Weddings are the only opportunity many of us have these days to be able to dress up and look fabulous.
As a guest at a friend or family members wedding, there are certain things you need to consider, in relation to the kind of jewelry you are thinking of wearing to such an important event.  Below we offer tips that will help to make sure you follow the proper wedding etiquette as a wedding guest when it comes to wearing jewelry.
Any piece of beautiful jewelry can help to enhance the outfit you have chosen to wear to the wedding.  As you will have to dress in an elegant way for such an important event in a person's life you need to make sure you wear jewelry that is appropriate for such an occasion, such as a wonderful wedding pearls set.
These days it is acceptable to mix and match as long as it suits the outfit you will be wearing.  But it is also important to make sure you don't go overboard with your jewelry accessories.
As you aren't a member of the wedding party, you will find you have a lot more options as to the way you accessorize your wedding outfit with pearls.
Below are just a few tips to help make sure you don't make any faux pas when attending a wedding this year or in the coming years.   By keeping to these five simple rules you will look wonderful without taking any of the shine away from the bride.
1.  Don't Wear Statement Pieces!
If you are invited to a wedding, just please remember to keep in mind that this event is all about the couple who are getting married, especially the bride.   Any statement pieces of jewelry are something that only should be seen being worn by the bride.  As a guest at the wedding wear wedding party jewelry pearls that will not attract too much attention.
It is okay for you to wear elegant pieces such as a single strand of pearls or a pearl choker.  You could even wear a beautiful pair of pearl drop earrings.  What you must make sure you don't do is go over the top with pieces that will cause you stealing the limelight from the bride on her big day.
2.  Smaller Is Better!
As a guest at a wedding as already discussed you shouldn't go overboard with the jewelry you wear.   You will find that keeping to smaller pieces of jewelry will make more of an impact than larger ones.   For example, you might want to consider wearing a simple pearl pendant with a matching pair of pearl earrings.  Otherwise, you may want to just wear a simple pair of stud pearl earrings along with a pearl bracelet.
3.  Do Not Over Do It!
As we've already discussed in this article going overboard when it comes to wearing jewelry to a wedding as a guest isn't a good idea.  You should keep things as simple as possible.  Wearing too much jewelry can look tacky and could even result in you taking away the limelight from someone else at the wedding.
As a wedding guest, keep as low a profile as possible, yet by wearing the right kind of wedding guest pearls you can still look glamorous.   One of the biggest mistakes wedding guest's makes is to wear several bracelets to give their outfit a less formal look.  But wearing so many not only makes noise but also will attract the attention of other guests and so taking away the shine from the couple whose big day it is.
4.  Do Not Wear Jewelry With Diamonds
Often diamonds are regarded as being the epitome of elegance and glamour.  When worn they will attract attention.  But when attending a wedding it is best to avoid wearing any jewelry containing diamonds.  Instead, wearing something different such as a beautiful wedding pearl set.
Remember that it is the bride who should receive all the admiring glances on this day.  It is her day.   But if your or own wedding or engagement ring has diamonds in the design, then it is okay for you to wear these.
5.  Pearls Are Acceptable For A Wedding
Weddings are very classy events and you need to wear jewelry that has a more refined look to them.   When it comes to jewelry, then anything including pearls in the design is suitable for wearing to any kind of wearing because of their simple elegance.
You can wear pearls in a wide variety of different ways from a simple pearl necklace, to a pair of pearl earrings or a pearl bracelet or pearl ring.   Even if the wedding you are attending is a little more traditional, then you can wear more cute style pearls as long as they match the rest of your outfit.
How To Pair Pearls With The Rest Of Your Wedding Attire
As pearls are distinctive, looking you may not always find they complement the rest of your outfit, especially if you are intending to wear other kinds of jewelry.
Here are a few tips to help make sure that the wedding party jewelry pearls you wear to complement the rest of your outfit.
It is always lovely to be included as a guest at a wedding, as it offers you the chance to celebrate something special with such a lovely couple.   If you have a wedding coming up soon just make sure you wear jewelry that is appropriate for such an important event in any couple's life.   It is one sure way for you to make sure that the couple will have wonderful memories of their day as the spotlight will be on them at all times.
So as you can see from above it is okay for any wedding guest to wear pearls to a wedding.  It is okay for everyone to add a touch more glamour to their outfit by including some beautiful wedding party jewelry pearls to complete the look.
It doesn't matter what kind of wedding you will be a guest at you cannot go wrong with choosing to wear pearls with your wedding attire.  Here at PearlsOnly, we have a wonderful selection of pearl jewelry to choose from that you can afford to wear to any wedding you are at a guest at.   Each one of our designs will complement any outfit you choose to wear at such an important event in the lives of those people you really care about.
(Visited 600 times, 1 visits today)