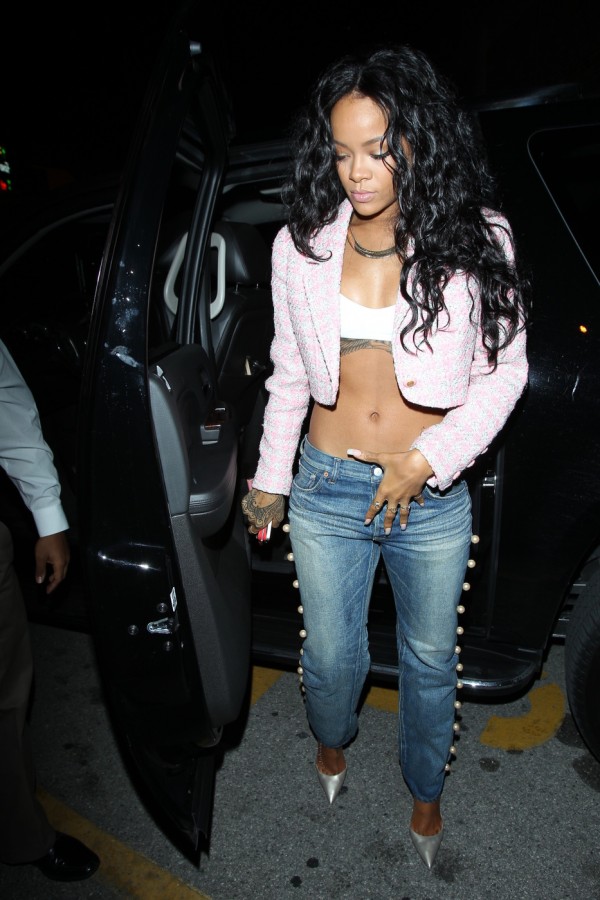 Rihanna is becoming the Queen of pearls! She seems to always be wearing a pair in her ears, on her neck, around her glasses and now she has taken it a step further by wearing them on her jeans.
Rihanna is such a trendsetter so it was only natural for her to wear a pair of pearl embellished jeans by a really unique and trendy brand, Tu Es Mon Tresor.
Tu Es Mon Tresor has really futuristically chic clothing including loads of clothing with pearl accents.
In April, Rihanna was spotted heading to a party at the Supper Club in Hollywood, California wearing a stylish pair of Tu Es Mon Tresor Boyfriend Jeans with Pearls down the sides. The jeans were complemented with a cute Chanel jacket and bandeau top. She made the pearls really pop by choosing to pair them with a pair of silver pumps.
What do you think of the look?
Image Courtesy of PacificCoastNews.com
(Visited 179 times, 1 visits today)