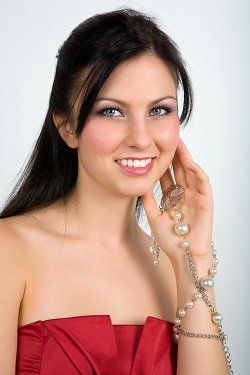 We have talked about pearl necklaces before, but in truth, this is a discussion that never ends. Pearls will be forever versatile and surprising. When we think about pearl necklaces, the first thing that comes to our minds are the classic strings of pearls featuring these little precious gems in a row of classiness and taste. Without any doubt, no matter their length, traditional pearl necklaces are still some of the most appraised and popular pearl jewelry pieces to date. However, some contemporary pearl necklace designs stood out from the crowd at fashion shows and runway presentations.
Some people may wonder if the classic, refined and elegant pearl choker will be out of style in the next years. The answer is "no." Pearls are timeless and  don't bow before any fashion trend. Defying conventions and promoting their own personal beauty standards, young modern women require their pearl necklaces to reflect their personalities, attitudes, styles, unique approach to contemporary times and versatility. Of course, pearls jewelry designers rushed to satisfy their needs and wishes. And since modern women do wear modern outfits and accessories, they want their pearls to keep up the pace. Today we will take a look at three contemporary pearl necklace designs for women of all ages.
1. The White Ribbon Pearl Necklace
Fun, flirty, laid back, extremely feminine and light as the summer breeze, a white ribbon pearl necklace is our top choice when it comes to contemporary pearl necklace designs. The pearls are scattered here and there on a thin shiny strand of ribbon for a delicate yet bold effect. Such necklaces usually feature small drop shaped or round Freshwater white pearls (5-6 mm in size) and the ribbon is usually 18 inches long. You may also love the pink ribbon pearl necklace variety, dedicated to teenagers and younger women proud of their playful side.
How to Wear the White Ribbon Pearl Necklace
Fresh, elegant, flirty and light, the necklace goes great with casual day outfits, long romantic summer dresses, cute little casual party outfits, office outfits that aren't all that formal and even wedding parties (if you are the unconventional type of bride), completely white outfits and so on.
This is a very clever way contemporary pearl necklace designs took something old and transformed it into something completely new, so you can pair the white ribbon necklace with a modern pearl ring to achieve an elegant, yet sassy look.
2. The Illusion Pearl Necklace
How would you look if you would wear pearls directly on your skin as they seem to float around your neck without any apparent necklace support? You would look indeed like a fairy, a creature of magical beauty and refinement. Among all contemporary pearl necklace designs, the illusion pearl necklaces are by far some o the most interesting, feminine and delicate, enveloping a woman in an aura of eerie seductive charm. The secret of this type of necklace is that all pearls are scattered around your neck by being placed on invisible nylon filaments. The first impression is that your pearls simply sit quietly against your skin by magic, the effect being dazzling to the point of WOW.
You will find illusion pearl necklaces in shimmering delicate whites, but don't be surprised to find such designs sporting mysterious and seductive black pearls or playful, summery and flirty pink ones.
How to Wear the Illusion Pearl Necklace
This necklace goes beyond the realm of casual fashion. Of course, it works amazing during the day with summer dresses, v-neck tops and jeans, party outfits, beach party outfits, and street-smart attire. However, given its exquisite design, the necklace will be a more than welcome piece of jewelry to accompany your little black dress, your high-end evening gown, your wedding dress or a formal business power suit (to soften it up).
Being almost invisible, the illusion necklace shouldn't be paired with another jewelry piece as the latter might overwhelm it. However, if you attend a high-end event and you wear a stylish updo, you can wear a very small pair of pearl stud earrings in the same color and shape as the necklace's pearls.
3. The Silver Chain Pearl Necklace
What can be simpler, more elegant and more sophisticated that white medium-size Freshwater pearls placed on a thin silver chain? The bright and sparkling backdrop given by the chain can only emphasize the dazzling shimmering of the gems in a montage that is ageless and priceless. The silver chain pearl necklace is both classy and glamorous. While not screaming for attention, it still gives a woman a composed, polished and elegant look that seems to have been effortless. The sterling silver chain goes with just about any type of outfit while the white pearls make the necklace versatile enough to be worn on all occasions. Such necklaces come in high quality pearls styling up your wardrobe and taking it to new heights.
How to Wear the Silver Chain Pearl Necklace
Feminine and versatile, the necklace can be worn with strapless dresses to casual / formal parties, with crew-neck tops and jeans to style up a casual street outfit, with silky shirts at the office and with long evening gowns at high-end events. If you remember the general rules of pairing pearls with outfits you should pick clothes whose colors don't clash against silver is it is a more contemporary, "colder" shade.
If you want to add more glam and glitz to an evening attire, you can also wear a complementary sterling silver chain bracelet.
There are many other contemporary pearl necklace designs that took the beauty of pearls to a whole new level. We will see other such montages in our future articles. What you should always remember, however, no matter if you choose ribbon, nylon or silver chains as backdrops for your pearls, the gems should always match your skin tone and your personal style and attitude. I you are bohemian and romantic at heart, the ribbon and illusion contemporary pearl necklaces designs are probably the best ones for you. If you adopt a more freestyle, street-chic and formal-meets-casual style, the silver chain necklace can take you everywhere from your 9 a.m. office meeting to your 9 p.m. dinner with friends.
(Visited 785 times, 1 visits today)