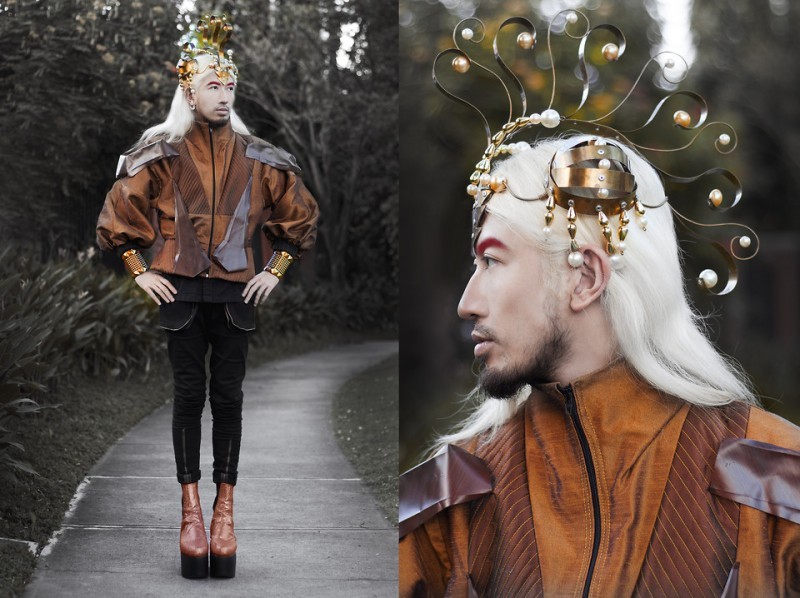 It is always amazing for us to share a daring Fashionisto wearing pearls– and this is your lucky day! This Fashionisto was chosen as our "Fashionisto of the Day in Pearls" because he made use of his extreme style by wowing us. Check out the beautiful artsy headpiece with pearl detailing!
Andre Judd, blogger of The Avant Gardien, showed off his bold style with a beautiful Copper Headpiece accented with Pearls by Van Cleefus, a Copper Silk Taffeta Couture Jacket by Jan Garcia, black skinny pants and platform boots.
He named this look "INTERSTELLAR COPPER KID". Here's why:
"Midcentury sci-fi, 80s cartoons Silverhawks with the character named Copper Kid. This is my take on futurism. Originally this look was supposed to be a joyous and optimistic post. Few hours ago I read that Nicolas Ghesquière, one of the most influential designers in fashion and my foremost fashion hero left Balenciaga. I was so devastated. He was responsible for inspiring me to pursue fashion as a career. His vision was and still is so influential that fashion follows after him. I don't know what will happen hereon but for now I'm mourning the loss of the greatest fashion collaboration in history.
I must say futurism became part of the modern fashion vocab thanks to Nicolas. This look is a tribute to his legacy at Balenciaga. "
He also shared a little about his really artist pearl and copper helmet:
"Van crafted this amazing headpiece as part of Cherry Veric's runway show a few seasons ago. I knew I had to have it. It's a piece of pure artistry. It's what inspired the whole look. Thank you Van! :)"
We think this Fashionisto looks great from head to toe (especially his edgy hair), and we are sure that you will love his look as well.
What do you think? Does he look chic?
Visit Andre Judd at his website: avantgardien.tumblr.com
Photos by: Anton
(Visited 135 times, 1 visits today)