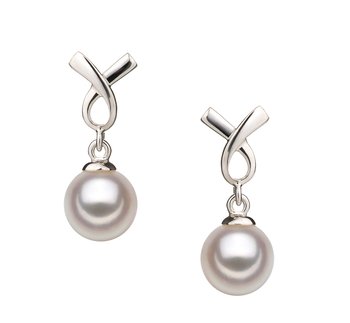 Mother's Day is the perfect occasion to show the mothers in your life how much you love and cherish them. Akoya pearls represent a brilliant gift.  Did you consider them? And it's not too early to start planning your present.  Whether you want to shower your own mother with gifts and attention, or you're looking to buy something for your wife, aunt, teacher, or even gym instructor, we've got you covered. The Pearls Only team has put together some Mother's Day gift ideas, so you can save time and make the mothers in your life happy. This year, Mother's Day falls on May 13th,   so you still have plenty of time to select the perfect gift.  Plus, Mothering Day in United Kingdom will be celebrated on March 11th.  Keep reading to find out which are out top Akoya pearls gift suggestions.
Before we begin, we must admit that if you don't know what to get your mother or wife on Mother's Day, we highly recommend you give her pearls. They're a classic choice that any woman would appreciate and enjoy. From Akoya pearls, to South Sea pearls, choose something within your budget and you've got a beautiful gift that will surely be treasured. That's the great thing about pearls, there's one for every budget and taste. So, without further ado, here are our 20 Mother's Day gift ideas. Happy shopping!
6 AKOYA PEARLS FOR MOTHER'S DAY GIFT IDEAS & OTHER 14 WONDERFUL GIFTS
Since we love Akoya Pearls so much and we consider them a must have in every pearl lover's collection, we believe you will love these breathtaking pearl gift ideas that we've picked for you,
20. Flowers
This Mother's Day, you need to get her flowers! Even if it's all you get her, flowers are simply a must. Find out what her favorite flowers are and get her a big bouquet with a nice card that will tell her how much you care about and appreciate what she's done for you.
  
Image source: Pearls Only
If you're looking for something classic and timeless, you simply must go with a Japanese White Akoya pearl necklace. Akoya pearls are the classic round pearl, a welcomed addition to any woman's jewelry collection and a gift that will delight!
18. Instant Camera
Instant cameras are not a thing of the past. They've been having a bit of a moment, lately and for good reason. They're fun, easy to use, and the photos they produce are great. Make sure you get an extra set of paper and you've got yourself the perfect fun gift!
For only $99, you can give her precious information about her roots that otherwise she wouldn't be able to learn. Order the test kit, and in a matter of weeks she will find out all about her genetic makeup. This is a great Mother's Day gift and a wonderful dinner conversation starter.
16. Kindle
Some people love the smell and feel of books. And others know that a Kindle can offer a similar experience, without the paper waste and with added convenience. If you think your mother will love to forgo paper, then a Kindle is the perfect gift for her! It fits thousands of books, the battery seems to last a lifetime, and they're compact! Perfect for someone who loves to read!
Just look at this stunning ring! Gorgeous, timeless, and classy! This fabulous Japanese Akoya pearl is set in 14 K white gold with two small .03 ct diamonds on each side. It's a present for a special someone, a gift that can be passed down to future generations, a family heirloom. If you want to truly spoil someone, this is the gift to do just that!
14. Fitness Bracelet
Have you heard of the case of the woman whose life was saved by her fitness bracelet which detected an unusual heart rhythm? Fitness bracelets are getting better and better, monitoring so much more than just steps, such as sleep patterns and heart rate. Also, these days, fitness bracelets aren't just for the active persons who spend hours in the gym. They're for everyone who likes to take care of themselves and are health conscious.
13. Straw Bag
The straw bag has been making a comeback! It's the perfect accessory for summer: light, chic, and quite spacious. Go for a large tote bag, or a basket tote for a more casual look. Choose a slouchy tote bag for someone who's all about comfort!
This double strand Japanese Akoya pearl bracelet is simply stunning! It's made with high quality Akoya pearls that have been certified for quality by the famous Japanese Pearl Export Association. The double knotted fine silk thread ensures that this bracelet is going to stay gorgeous for a long time!
11. Tea Set
A classic and lovely gift for all those ladies who love their tea. Go for a ceramic tea set if money is an issue, and choose a porcelain set if you feel like splurging. We believe that a nice tea set has its place in any home!
10. Nut Milk Maker
These days, more and more people are choosing to live their lives dairy-free. The benefits of nut milks are many and a great way to introduce these types of milk into your life is through a nut milk maker. Will she love to fresh almond milk every single day with just a push of a button? Then a nut milk maker needs to find its way to her!
9. Silk Scarf
Some classics are classics because they're just that good! A silk scarf will always make a wonderful gift, especially for those ladies who love the finer things in life. Make sure you get something in a color you know she loves, and don't be afraid to spend a little extra money on a good brand.
8. Pasta Maker
If she loves pasta, then she will absolutely adore freshly made pasta. It's so much tastier and it's not that hard to make, if you have a pasta maker! This gift is perfect for anyone who likes to dabble in the kitchen and who loves floury goodness.
Just look at this stunning,  Randy Black 7-8mm AA Quality Japanese Akoya 925 Sterling Silver Pearl Pendant. Set under the favored and desirable cubic zirconia's sparkling and true AAA Luster, its beauty shines through the pendant. It is tryly delicate, classy, and beyond beautiful. This is a great gift for any mother out there, especially those who love black pearls. But then again, who doesn't?!
6. Dinner at a Good Restaurant
Sometimes, the best present you can give someone is quality time spent together. These days, people are so busy all the time and they forget to slow down and enjoy the things that they're working hard for. So, why not splurge on a nice dinner at a fancy restaurant that you will both enjoy and remember for a long time?
A stunning Akoya pearl set, such as the one above, is another wonderful Mother's Day gift. We can assure you that she'll love it! What is there not to like? This White Japanese Akoya Pearl and 14K Yellow Gold Set displays the quality every woman wants in her necklace and earrings set. Each piece holds the highest standards in quality the AAA shape and AAA luster remain consistent with the 6-7mm white Japanese pearls. Modern, trendy, yet classy, this set  is for a true pearl lover!
4. Culinary Vacation
Some of the best gifts out there, aren't things at all. They're experiences to be remembered and cherished. So, give her a gift that she will remember forever. A culinary vacation in Italy will include wine tastings, cooking lessons, and visits to various amazing restaurants. If not Italy, then maybe Greece, Hawaii, or Thailand! Who wouldn't love to sample some of the world's best wines, dishes, visit fascinating destinations, and learn to cook delicious foods?
3. A Course in…
Does she love photography? Maybe she's into crafts or soap making? Or maybe she's always wanted to learn how to swim. If you know there is something out there that she's been wanting to try but never got around to doing, now is the time to step in! Give her the gift of expressing her creativity and or the chance to do something she's always wanted. Who wouldn't love that?! Plus, you can participate as well! Spend some quality time together. We are pretty sure this is something she would appreciate.
When it comes to pearl earrings, as with any other piece of jewelry, it all depends on your budget.  The perfect sized pearls, they are not overwhelming or boastful, they are simply graceful in size and design. The AAA shape and mirror like luster maintain their beautiful appearance when set against the .925 sterling silver. The dangling white pearls sit directly under the upside down ribbons and look fun and refresh. Moreover, the posts for the earrings are sterling silver and come with sterling silver butterfly backs. They would look stunning on anyone. Whatever option you choose, she'll love it if it shows that you put some heart in it!
1. Spa Experience
Do you know what mothers need, crave, and desire the most? Relaxation and pampering! Time to themselves, to relax, and just forget about their worries. And what could be more relaxing and pampering than a luxurious spa experience? Get her the full package: exfoliation, massage, facial, the whole shebang, and she will absolutely love you for it! Choose something not too far away from her home, for added comfort!
We hope you found our list of Mother's Day gift ideas useful and creative enough. Naturally, we encourage you to get mothers pearls, because nothing really says I love you, like pearls do. Visit our collection of Akoya Pearls on our website and select something according to your budget and preferences. It's the little things we do that show the people around us we care about them. So, this Mother's Day, make your mother proud and give her a gorgeous pearl!
(Visited 117 times, 1 visits today)