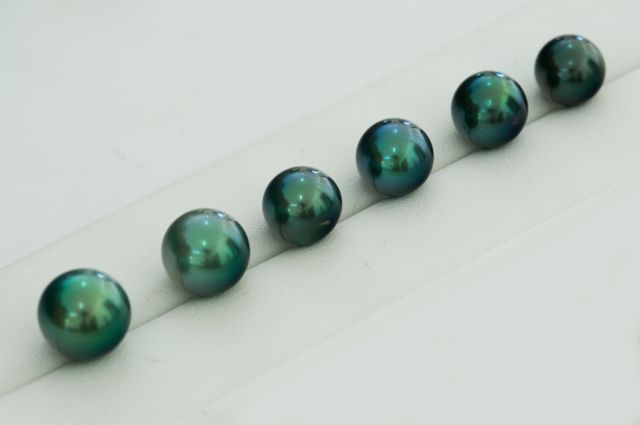 Tahitian pearls are among some of the most beautiful of all gemstones that a woman can own and wear.  But to be able to draw more attention to this kind of pearl jewelry it is important that you know the correct way to accessorize any outfit with them.
One important rule regarding the wearing of Tahitian pearls is that any woman can.  Pearls look stunning on any woman as it is all about how they wear them.  For the more classic look simply wear a single strand of Tahitian pearls.
(INSERT IMAGE 1 HERE)
But if you want to be a little more rebellious then you choose to team your earrings with some other bold pieces of jewelry that you have already.  Just make sure that you think about what other pieces of jewelry you have that will complement each other perfectly.
The great thing about even Tahitian pearls is that they sit well with even more modern designs.  For example, you could actually team up your Tahitian pearl necklace with say a nice cool leather black biker style jacket.  Under which you are wearing a simple white t-shirt and a pair of jeans.
Okay, white pearls carry a seemingly timeless versatility that makes them look stylish no matter when they are worn.  But what about black pearls, especially Tahitian black pearls can they be worn whenever you like?
With their vast array of different shades, and warm hues such as copper blue or even icy shades of grey or blue.  These pearls have a great deal to offer both in terms of colour, shape and of course not forgetting luster.
The fact is that Tahitian pearls are now among some of the most valuable gemstones a woman can own.  This isn't only partly because of their impressive size, but of course because of their colour variations.
(INSERT IMAGE 2 HERE)
If you like so many other women love their intense glow and would love to be able to wear them with outfits in your wardrobe here are a few ideas to help you.  All of which will give you the opportunity to create a more sophisticated look that is modern as well.
How To Accessorize With Tahitian Pearls
Follow The Neckline
One simple rule you need to remember especially when you are having problems finding the perfect match for a particular decolletage.  This is to always follow the neckline of the outfit you are wearing.  So if your dress or top has a round neckline than wearing a Black Tahitian pearl choker necklace is perfect.  However if the dress or top has a more plunging neckline then, of course, wear a simple single strand of Tahitian pearls.
What you end up with is the perfect polished look that won't look wrong no matter what colour the pearls are you are wearing.  Black pearls look even moTahitre spectacular if you choose to team such pieces of Tahitian pearls jewelry with say a white, cream or pastel coloured outfit.  The dark colour of the pearls will add a more chic look to such an outfit.
Try The Stackable Trend
These days this trend isn't limited to you just wearing a few dainty rings on your fingers.  In fact pearls, including black Tahitian ones are proving to be very versatile gemstones these days, especially when it comes to say Tahitian pearl rings.
It doesn't matter if you choose to wear small or large rings, with grey or blue overtones, just remember to make sure you include some Tahitian pearl rings into the stack when next time you decide to sport this very hot trend at the moment.
Go Down The Minimalist Route
Versatility is an understatement when you choose to go for simple pearl jewelry designs, whether it is a Tahitian pearl bracelet or necklace.  Whilst a classic strand of pearls is definitely a very staple piece of jewelry in many women's wardrobes.  These days more minimalistic modern designs that may include a single pearl in them is very en vogue at the moment.
Okay, you could opt for pieces of jewelry incorporating white pearls in their designs.  But if you want pieces that have a more modern edgy feel to them then opt for ones that have been designed incorporating Tahitian pearls in them.  This is definitely the way to go.
Make A Backless Style Statement
Now is the time to channel your inner flapper, by wearing your string of black Tahitian pearls draped over your back.   Throughout the 1920s this was a period where fashion was starting to be a little more adventurous.  Women were now starting to get a little more expressive with the clothes they wore and how they accessorize their outfits.
If you happen to be going to an important event and wearing a backless dress then team it with a stunning long strand of Tahitian pearls worn on your back.   Don't forget to also team it with a beautiful pair of drop black Tahitian pearl earrings.  Preferably a pair that matches the necklace you've chosen to wear.
Tahitian Pearls For Beach-Ready Sun-Kissed Skin
There is something really magical happens when you choose to pair any pieces of black Tahitian pearls jewelry with beautifully bronzed skin.  It doesn't matter whether your pearls come in shades of copper, dark peacock green or silver.  When you pair them with your beach outfits they are going to look fabulous.
Are you looking for ways to incorporate Tahitian pearls into your beach outfits?  Then you should look to wear more modern pieces, ones that have been set in gold or silver.  Also choose to wear either a Tahitian pearl choker necklace or some long dangly pieces, such as a beautiful pair of chandelier style Tahitian pearl earrings.
Also make sure that you wear pieces of black Tahitian pearl jewelry that match each other, especially if you choose to stick to wearing more simple designs.
For Instant Drama, Multiple Layers Are A Must
If you would love to be able to wear Tahitian pearls to work, you need not stick to just wearing a single strand of black pearls.  Here is one look that will certainly make an impact on those you work with.
(INSERT IMAGE 4 HERE)
Go all out for the drama by sticking to a black palette, and pair say a black jacket or dress with some stunning iridescent black Tahitian pearls, that you wear in multiple layers.  You can do this by wearing say several necklaces together, or you could simply wear one very long strand of black pearls that you then wrap around your neck a few times.
This look is definitely on trend and will wow those around you.  You could even make the pearls stand out more by opting to wear under the jacket a dark green, grey or blue top.
Keep Things Simple
If you happen to be heading out for lunch with your BFF, of course, it is best to keep things simple.  So why not wear a very simple Tahitian pearl pendant with say a crisp white blouse and a pair of Capri pants.   To really finish off the look you could also wear a pair of beautiful black Tahitian pearl stud earrings.  Best to make sure that they match the design of the pendant you are also wearing.
To really make the pearl stand out in such pieces of jewelry opt for ones that include say diamonds or other precious stones into the design as well.  Also, choose a Tahitian pearl pendant that hangs from a silver coloured chain.
Hopefully, the ideas above will help you come up with some stunning ways that will allow you to let any Tahitian pearls jewelry you own to shine out.
With no doubt, Tahitian pearls are the perfect jewelry accessory and can be worn whenever you like.  One thing is for sure that is that we are certain that the quality of these particular pearls will impress you.
If you are at all interested and searching for new ideas when it comes to the kind of jewelry that you wear with outfits in your wardrobe, then you should seriously consider including some Tahitian pearls in your jewelry collection.  Tahitian pearls look not only stunning but will also provide that all-important added touch of elegance and sophistication to any outfit you decide to wear them with.
If you have never owned any kind of black pearl jewelry, then isn't about time you did.  These are a symbol of true beauty.  Any Tahitian pearls will represent a very valuable addition to your jewelry collection, not just today but also in the future.
You will find here at PearlsOnly.com, that we have carefully selected Tahitian pearls in order to satisfy any tastes and quality standards.  All of our black Tahitian pearl necklaces, pendants, earrings, rings and bracelets come at very affordable prices and will be shipped to you free of charge.  So finding the perfect pieces of Tahitian pearls jewelry to add to your collection shouldn't prove at all difficult.
(Visited 98 times, 1 visits today)