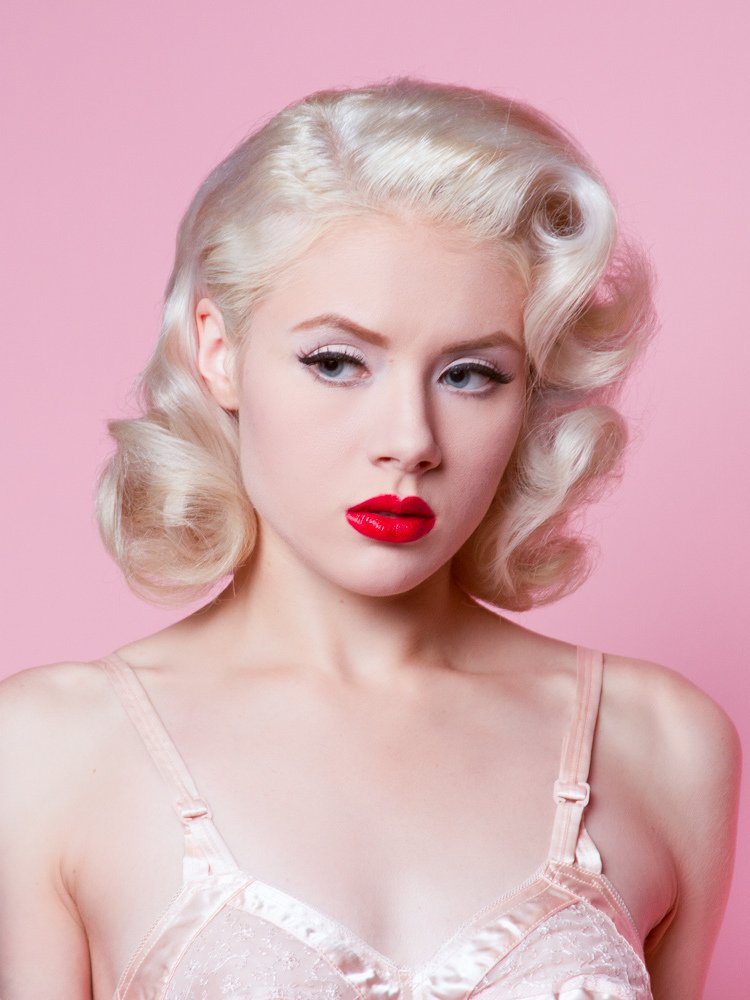 We know there are some real glamour pusses out there who are either aspiring to become a model or are currently a model looking for work. As a model your portfolio is your single most important thing to your career, it's your shot at turning someone's head and attracting agency attention – so we need to make sure its absolutely spot on! It is completely down to you to assemble your portfolio to ensure it is a cut above the rest so let's get things in order! We are sure you have a variety of different pictures and looks to showcase your personality! Maybe you have your hair swept back in one wearing a pearl necklace and in another photo you might be in theme wear. Variety is the key.
You don't want to equal the competition, you need to be above the competition and make the best first impression possible. Agency meetings and auditions all begin with the industry professionals flicking through your portfolio without much hesitation so let's make sure they don't turn those pages too quickly! Below you will find 5 tips to help you ensure your portfolio turns the head of those agency insiders and makes you unforgettable.
TOP TIP 1
Best 3 to the front – no exceptions. Put your best foot forward, or in other words take no risks and hit them with the best of you first because time is of the essence. You should always abide by this rule. Ensure your best 3 photos are at the front of your portfolio with no other images next to them on the opposite pages to distract away from them. People naturally look to the right when flipping through pages so placing your photos on the right will automatically draw their eyes to it. Never think that you'll save the best for last because this principle alone could finish you before you've even begun.
 TOP TIP 2
Don't skimp your actual portfolio, it needs to reflect you. Many girls make the mistake of using a cheap portfolio folder, even with plastic wallets. What is the point in spending a fortune on great photographs when you're going to display them in something cheap and rubbish? Invest in a professional looking or custom made portfolio in leather or suede ideally. As a model, presentation is everything so ensure your portfolio is as well presented as you are and you will be taken more seriously. So excellent portfolio, check, best three pictures to the front, check!
TOP TIP 3
Get yourself online, this should be a no brainer. If you are deadly serious about impressing agency professionals or potential employers, then get your portfolio online. Make a website which perfectly mirrors your portfolio with high quality digital images, an 'About You' page with all your necessary measurements and a 'Contact' page so people can contact you directly. By being online you are opening yourself up to many more potential leads. Also if you want to be a real pro – tailor your personal Facebook page to look classy and professional because potential employers usually always go to your profile to have a look at the real you and what you may be like.
TOP TIP 4
Showcase your adaptability and your versatility. Taking good selfies or amateur pictures of yourself is a big no no. The bottom line is if you want to make it in the business then you have to splash a little cash at first. Ensure you have highly varied professional photos and not just 4-5 images from the same shoot. Mix it up and really demonstrate what you can do and what you are capable of! Constantly update your portfolio and never let it sit and gather dust, refresh it! Done be afraid to be different either, modelling agencies love people with an edge. Also if you have a distinguishing facial feature like a gap in your teeth or a mole then show it off as it may just be the deciding factor that sways them to employee you.
TOP TIP 5
Have you sorted out the basics? Make sure you have a headshot, basic portraits and full-length shots that clearly show your professionalism as a model. Without these images in your portfolio you wont even meet the basic requirements. Remember quality over quantity. A great portfolio should consist of 8-12 photos so be selective.
The importance of your portfolio equals the importance of a warrior's sward in battle. Without it being absolutely spot on you stand little chance, but getting it correct you will win your battles! Spend as much time as necessary correcting and enhancing your portfolio and remember, always ask for feedback.
(Visited 184 times, 1 visits today)