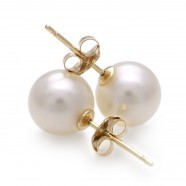 Today Mikimoto pearl jewelry is world renown for their incredible beauty and luster. Over fifty years after his passing, Mikimoto pearl jewelry still bears the name of Akoya pearl culturing legend Kohichi Mikimoto. Mikimoto was the driving force behind new and innovative pearl culturing methods as well as raising the awareness of cultured Akoya pearls and Mikimoto jewelry to the international stage and market.
Mikimoto harvested the world's first cultured half pearls in 1893. About ten years later, he opened up a Mikimoto pearl jewelry retail locations in Japan. By 1919, Mikimoto pearl jewelry retail stores had locations in England, France, India, China and the United States.
Mikimoto was such a powerful driving force behind new Akoya pearl culturing innovations. As a result, there are now more Akoya farms Japan and few can produce Mikimoto pearls for Mikimoto jewelry Mikimoto quality pearls without the Mikimoto pearl prestige pricing.
Mikimoto pearl jewelry has even attracted royalty. In 1975, England's Queen Elizabeth with Prince consort Phillip visited Mikimoto's island in Japan.
(Visited 466 times, 1 visits today)