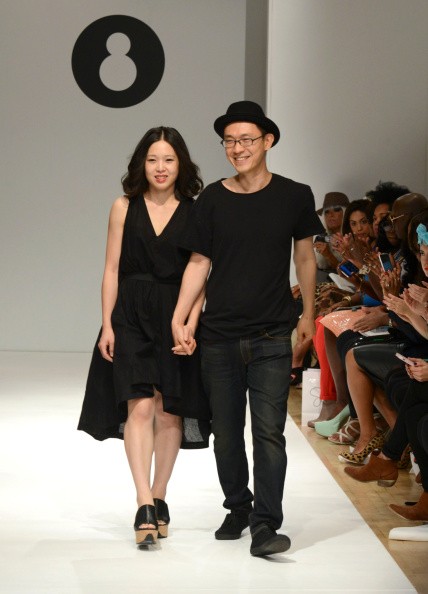 New York Fashion Week (NYC)–  The Snowman show at Helen Mills Event Space in New York City, on Thursday, September 4th 2014 was filled with outerwear perfect for the Spring!
Snowman, the ouertwear fashion line known for their "High Fashion, Urban Down", once again showed why New Yorkers are so in love with the brand. Fashion designers Jennifer Suh and Baekkyu Suh made a statement with their craft quality outerwear that seemed to embody the Big Apple with its fun and structured designs.
The line featured outerwear of different lengths and designs which really appeals to every woman; classic long trench coats for the businesswoman on the move; short sleeved puffy style jackets for the girly-girl enjoying the spring weather; and even asymmetrical jackets in various colors for the edgy woman who wants to get attention while she is graciously walking the pavement making the world her runway.
"At the core of every SNOWMAN creation is a moment in the urban landscape. The symphony of rolling subway cars, street musicians, chatting friends, and roguish debates, echoes through our aesthetic. The seemingly mismatched juxtapositions, which give the city character, give us ideas – the graffiti-ridden brick with a metallic modern glass skyscraper in the background or the heart tattoo on the brooding ex-wrestler. Like these city-based oxymorons, SNOWMAN apparel combines spunk with simplicity, innovation with timelessness, and style with function. Like our city, SNOWMAN seeks to provide the blissfully unexpected."  
And you can see this reflected in their clothing!
What we, at Pearls Only, think this collection was amazing because it displayed the different shades of your everyday woman and we can see any City girl adding more than a few of these pieces to her wardrobe.
Fashion Forecast for Snowman: Young women will be ready to make their outerwear a fashion statement for the Spring/Summer of 2015!
Trend Report (what has been seen on a few runways for Spring 2015):
Asymmetrical Cuts
Trench Coats
Fun Colors
Coverage provided by: Ms. Elitou
(Visited 122 times, 1 visits today)