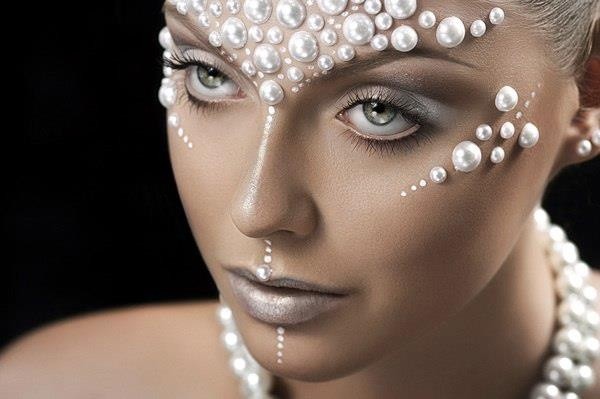 Thinking outside the box and using pearls to create the perfect look
So, you love wearing your pearls as we all do. Pearls offer you that beautiful subtle hint of feminine beauty with a touch of class. Wearing pearls can make you feel feminine, flirty and fun and can also open up many more doors when it comes to fashion and beauty. In this post we are going to explore how your love of pearls can be transferred to your style and used in numerous different ways to create and inspire looks. Trending at the moment is the themes of pastels and pearls and the 'mermaid' look, the mermaid look sees women incorporating pearls into their overall look as opposed to wearing them simply as jewellery so we are also going to excitedly explore this gorgeously alternative look as an excellent way to explore pastels, pearls, mermaids and make-up
Begin with a flawless face
The perfect way to wear your pearls is to keep your face and skin natural. Mineral make-up works a treat for this look as it brushes on lightly giving you a soft and airy feel. Having a beautifully clear and natural complexion highlights the pearls you wear because the clear, smooth surface of the pearls compliments a flawless complexion perfectly. It gives you the perfect base to then apply your makeup to achieve beautiful effects. Add a gentle sweep of a paler shade of blusher too; the key is to stay well away from any dark or vibrant colours which will harshly contrast with the gentleness of the pearls colour.
The shimmery pastel eye
When wearing your pearls, there are certain make-up adaptations you can make to ensure that you perfectly compliment your love of pearls and/or your current pear jewellery. The soft shimmery eye is a perfect partner for pearls, why? Because it adds to the natural glisten of the beautiful stone making your features look soft and your complexion dewy and glowy.
How to get this look
Firstly, apply a make-up primer to the eye area so the shadow will remain firmly in place.
Cover your lid with a white eye-liner as this provides the perfect base for the shimmer.
Choose a shimmer which is in the same colour pallet as your pearls, so if your pearls are white choose a nice pale pastel peach, pink, turquoise, blue etc.
Brush the shimmer over the lids and also in the inner corners of the eyes and along the lower lash line. Feel free to blend with a slightly darker colour for a light smoky eye effect, the possibilities are endless with this look.
Finish the look by lining the eyes with white eye liner and for a more dramatic effect, use a black eye-liner to create a cat's eye flick.
The Luscious lip
Want to get that irresistible, iridescent pearly glow for your lips? It's definitely achievable and there are a few clever ways to do this. Matching your lips to your favourite pearls is a great idea and looks absolutely gorgeous. Two great looks for the lips if you love pearls are the plain pastel lip or the holographic/ iridescent lip.
How to get this look
Prep your lips first by dry brushing them with a tooth brush then add a dab of Vaseline so they are nice and smooth.
Using a white eye-liner cover your lips and gently blend as this creates a great base for your colour to stick to.
Purchase a holographic or iridescent lipstick and cover your lips.
Alternatively use the main colour as a base coat, for example a pastel peach then add a dab of shimmery gold eye shadow/cream to the middle of your top and bottom lip and blend. This principle can be applied to any of your chosen colour combinations. You could try lilac and silver, green and gold etc.
For the plain pastel lip, simply add the pastel colour and finish with a coat of clear gloss.
The Mermaid Look
The mermaid look is extremely fashionable at the moment with women choosing to base their look around the oceans beauty. To achieve this look women are choosing to colour their hair in pastel shades and accessorize highly with ocean themed pretties such as pearls, shells and seaside colours. You can take this look as far as you want or just add a few hints of it to get that edge on your current look, whatever your reason it's a beautiful and fun trend.
How to get this look
You will need a semi-permanent pastel hair colour such as peach, lilac or candy floss pink
Accessorize your hair by using an ocean themed hair clip such as a start fish, shell or a pearl headband.
Wear some beautiful white stud or dangle pear earrings.
Makeup can be as adventurous or as soft as you like. Focus on your eyes and use a soft, pastel pink blue or turquoise shimmery eye-shadow and if you really want to go for it, use some stick on pearls in the inner corners of your eyes. Don't be afraid to be bold with look as there are so many things you can do to go to town on this look.
When it comes to pearls, their beauty can be transferred onto various styles of accessories and make-up enabling you to create beautifully different, elegant and alternative looks. By sticking within certain colour palettes you can create looks that are absolutely perfectly crafted and utterly flawless. If you try to stick to the few rules when wearing your pearls which are, keep skin looking natural and flawless, ensure you avoid harsh colours when it comes to makeup and hair and keep your style elegant and sophisticated, unless you're going for an alternative look like the mermaid. By embracing the colours and beauty of the ocean you can adopt a mermaid themed look or use the tips above to add a little extra sparkle to you look when sporting your favourite pearl necklace.
(Visited 502 times, 1 visits today)