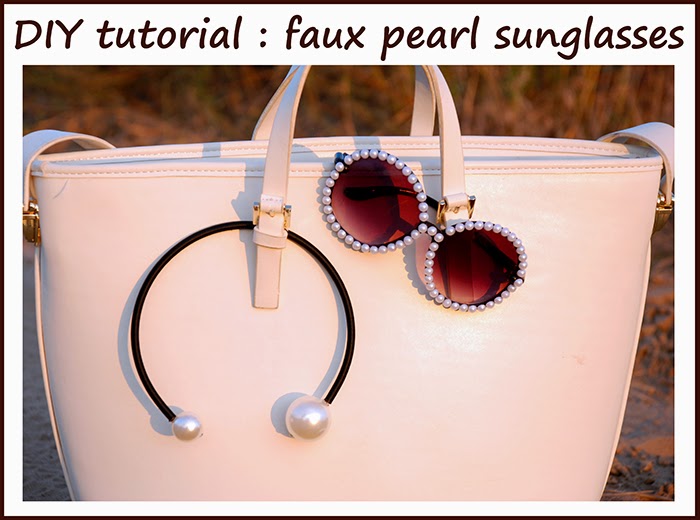 Do you have a favorite pair of round sunglasses that are in need of a style makeover, but not sure what to do with them?  Iren P. of liakw.com had the same issue which caused her to create an awesome DIY that will show you step by step how to give your sunglasses new life. What we loved most about her DIY is that it included pearls!
You may have seen this style of glasses before on Rihanna when she performed "Diamonds" at Victoria Secret's Annual Fashion Show in 2012 wearing a pair of Chanel Faux Pearl Sunglasses. Since that performance, they have been the trendiest pearl shades to date.
Iren shared:
 "I can't say that my today's handmade is something unique, you should probably see this Chanel inspired pearl sunglasses in different shops, but my old round sunglasses ripped and I decided to give it second life not just to throw away. If you want to renew your bored sunglasses my tutorial can be very helpful, hope you'll like it!"
We loved it!
One thing that seems to make this style of glasses appealing is that they are very chic but also very easy and extremely fun to make whether you have an artistic bone or not.
The task is incredibly simple and fun to create, but the best part is all you will need is round sunglasses, half pearls, super glue, and an emery paper.
To learn how to make your own, check it out here.
We also discovered that Iren also has other great DIY projects including DIY hair accessories, crop tops and much more, so be sure to check out her blog.
What do you think of the pearl glasses trend? Is it still stylish? Comment with your thoughts and opinions!
Photo Source: liakw.com
(Visited 210 times, 1 visits today)