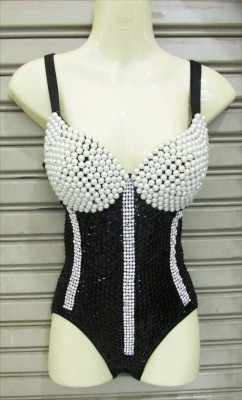 We love a good pearl fashion and we think that we have one here. Just recently, we ventured through the internet to give you the latest and greatest in fashion and we came across this beauty. This black sequins, crystals and pearls body suit is so Dita Von Teese and we can even vision the amazing Beyonce wearing this unique fashion find. The amazing detail with the cat eye breast cup is what had us clutching out pearls… in amazement!
At www.Daneena.com, you can get this for $155! You can also have your own custom designed to your liking, shape and size.
We think that this fashion find is awesome and we love the way it looks. Would you dare to wear?
(Visited 141 times, 1 visits today)