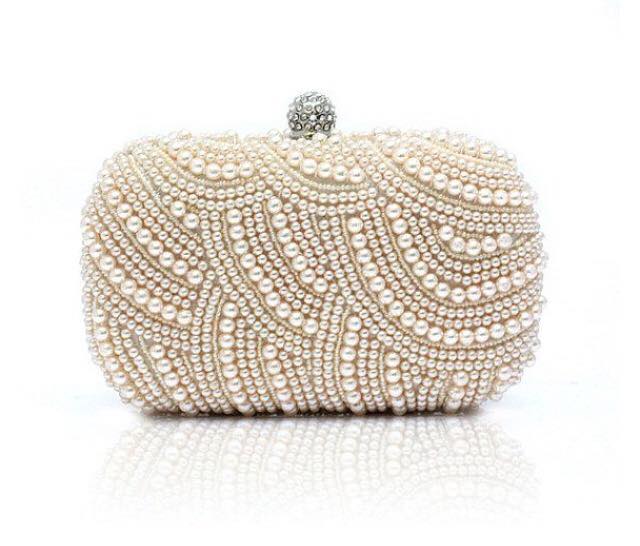 The pearl has come along way throughout history and is no longer confined to grandmas jewelry box! Pearls are one of the fashion industry's favourite embellishment and we are seeing them everywhere from the lining of denim shorts to pearl encrusted headbands. The beauty of pearls is universal and they are certainly not limited to necklaces, earrings and bracelets.
In this post, we are going to examine the many different ways in which pearls have inspired our fashion, culture and lives not to mention their artistic influence. What's so great about a pearl? A pear is born in the ocean and recovered like a secret treasure; fashion designers, artists and regular folk alike have all drawn inspiration for the iridescent little gem. What gives pearls that beautiful, natural iridescent glow? They are actually made up of layers of calcium carbonate most commonly in the form of nacre, a natural substance which is produced by pearl oysters that coats the inside of the sea creatures shell.
Pearls hold a beauty like no other and their colour effect alone has been used on expensive cars, accessories clothing and much much more. Instead of just wearing the coveted gem around your neck, lets see how you can use its beautiful effect to create a whole new wardrobe of inspiration. Lets begin with iridescent effect accessories.
Iridescent Accessories
You know that gorgeous iridescent glow a pearl gives, it's simply like no other but it can be closely replicated for you to enjoy in your stylish accessories. This glow has been applied to handbags and even clothes and some like to call it 'holographic'. It gives you a high shine with a multi tonal sheen and usually comes in silver or gold but you can also get it in pearly whites. Iridescent bags and shoes are still high fashion today and are being worn as statement pieces. At the moment iridescent coats and jackets are in but we are in love with the bags and shoes as they give any outfit a subtle edge of difference.
These gorgeous, almost futuristic bags give you a similar effect to the iridescent glow of a pearl. They can set off any outfit you desire. We really love the ocean themed bags especially the shell shaped one!
Perfectly pearly shoes
How about setting off those beautiful pins with a pair of pearly shoes? Using the same effect, pearly looking shoes can come in the form of holographic or iridescent finishes and really look incredible. From stilettos to boots and flats there is an iridescent shoe that will win you over no matter what! They can work as daywear or eveningwear if dressed up. You can get holographic shoes at great prices and many designers and fashion foguls have put their own stamp on the trending shoe design.
What would you wear your gorgeous holographic shoes with? We adore the flats! Perfect for all occasions!
Pearl headwear
Now its time for a little bit of the real thing; pearls themselves! Pearls make for the perfect accessory especially when it comes to your hair. The beauty of pearls is that they look awesome in both fair hair and darker hair. They blend beautifully with light hair and stand out and make a statement against darker shades. There is so many different ways you can wear pearls in your hair and there are many different hairpins, slides, grips and corsage pieces you can indulge in. They are also a particular favourite at weddings too due to the way then can drape over shoulders, fit into hairstyles and glisten over the wedding dress.
Get creative with pearl hair slides and you could even try customizing your own for something totally unique.
Quirky and creative pearl attire
There is simply no end to what designers can do in this day and age. With pearls being a huge focus and area of inspiration, designers continue to reinvent the way the ocean born gem is worn and used. We love how pearls are draped over women's shoulders to create a somewhat waterfall effect to perfectly compliment the feminine physique. Another simple but effective favourite fashion accessory is the pearl handbag by Chanel which is beautifully simple but extremely effective being the perfect size for a clutch bag looking like a giant pearl.
Pearl back necklaces are also to die for looking extremely elegant adding class and sophistication to any outfit.
The great thing about pearls is that they can be enjoyed for the beautiful gem that they are or their qualities can be transferred onto other items of high fashion. Because pearls come from the ocean this immediately gives them a greater depth of character than any other gem stone. Their iridescent glow has been enjoyed by fashion designers around the globe as they have replicated it amongst their clothing and accessories. The glow from a natural pearl is enjoyed across a huge scope of people including fashion followers, brides, ocean fans and many more. Part of a pearl's enticing allure is its natural sources: It originates from a living creature, a mollusc. Furthermore, in light of the fact that pearls are somewhat permeable, they warm up against the skin as they are worn. The wearer and the pearls are both totally natural.
(Visited 140 times, 1 visits today)