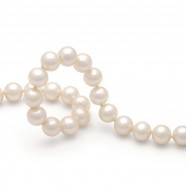 There is nothing like classic white pearls to finish off any outfit in elegance and timeless style. The set of white pearls usually includes a white pearl necklace, a matching bracelet and earrings. Oftentimes this set of white pearls can also be referred to as a white pearl necklace set.
In addition, white pearls are the quintessential and classic jewelry piece that every woman must have. This is also true around the world. In cultures across the globe, the white pearl necklace is also a timeless classic and jewelry staple.
White pearls and the white pearl necklace have long and deep historical roots. Royal brides in ancient civilizations wore white pearls as a symbol of her purity and the perfection of the couple's new union. The couple also often exchanged precious white pearls as part of the 
wedding ritual. The white pearls serve to symbolize balance and love of the two individuals joined in the union .Following these traditions, today, brides and their bridesmaids will wear white pearls for that special day.
Modern couples have also incorporated white pearls into their entire bridal parties. Grooms, best men and groomsmen are wearing white pearls in tie tacks and cufflinks too. Another popular white pearl necklace is the white pearl collar necklace. These necklaces are worn tight against the throat for an elegant and regal presentation of precious white pearls.
The white pearl collar necklace also makes ample allowances for all differing necklines. From high collar to plunge, the white pearl collar necklace is just elegant. For everyday wear, a white pearl collar necklace is a fun addition to any outfit.
Whether following new or old traditions, white pearls and the white pearl necklace will always have a place in every occasion.
(Visited 93 times, 1 visits today)