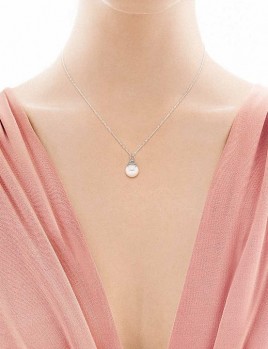 Wearing a pearl pendant necklace has the power to beautify any outfit in a delicate and subtle way. A high-quality pearl pendant is truly versatile and easy to adapt to a plethora of outfits. Whether you gravitate towards fun and flirty looks that comprise bright patterns or you feel more comfortable in a conservative pant suit, especially on office days, the pearl pendant necklace will suit most looks. Versatility doesn't mean a boring, dull look. The single delicate pearl in this type of necklaces brightens up the complexion effortlessly, especially when it is set in a high-quality and durable metal like 14k yellow gold.
The wide palette of pedant necklaces out there will suit the needs of the modern woman who is always on the go running errands or commuting as well as the fashion requirements of the young lady who has just graduated. There are a few rules to take into consideration when choosing a pearl pendant necklace and accessorizing it. This comprehensive guide will point out the things fashionistas need to take into consideration to make an informed decision and put together a perfect outfit that inspires confidence and elegance.
Pearl color
Long are the days when women could only wear white pearls to accentuate their necklines. Nowadays, a wide range of colors, shapes and lusters is available for buyers all around the globe. Carefully consider your complexion and your fashion style to make sure you make the correct purchase. Keep in mind these valuable pointers:
1. White Pearl Pendants
The epitome of refinement and timeless class, a single white pearl can transform an outfit and make you ready for a business meeting or a party in an instant. White pearl pendant necklaces with cold overtones are beautifully complemented by silver chains. A white pearl with warm undertones will look striking set in 14k gold.
2. Pink Pearl Pendants
The delicately blushing pink or lavender pearl pendant is a great accessory for adolescents and young ladies who revolve around a casual wardrobe. The playful tone of this jewelry item makes it the perfect companion for super simple outfits: graphic tees, ripped jeans, and floral maxi dress look tenfold better when they are paired with a pink pearl pendant. The best part about this item is that it can effortlessly be paired with other jewelry like stacked silver or gold bracelets and fun dangling earrings.
3. Black Pearl Pendants
Mature women who spend a lot of time at the office should have at least one black pearl pendant in their wardrobe. This jewelry item will surely quickly become their go-to accessory because it's easy to wear with pencil skirts and silk shirts or little black dresses. Black pearl pendants are not only for office wear. They will look equally striking if they are combined with cable knit sweaters in nude shades or plunging V-neck summer dresses.
4. Gold Pearl Pendants
One of the most luxurious pearl pedant necklaces out there, this gold colored gemstone will shine and brighten up any complexion for any occasion. Gold pearl pendants usually comprise a lush South Sea pearl set in 14K Yellow Gold. A one of a kind accessory, this will beautifully complement business attire and glam up any party gown. At the same time, it will look striking at weddings and engagement parties, conveying a dreamy and sophisticated look to your outfit.
Fashion Style
Besides weighing in your favorite colors and the undertones of your skin, you should also take into account your own fashion style when it comes to investing in a pearl pendant necklace. This way, you can make sure you maximize your purchase by being able to wear it with most of your outfits both during daytime and in the evening. Here's what you should keep an eye out for.
1. Casual Wear
If you reach out for ballet flats or sneakers most days of the week, it doesn't mean you should renounce jewelry altogether. Choosing a simple, dainty pearl pendant necklace that comprises a small gemstone in a neutral color means you will be able to sport it with Converse, jeans, and loose t-shirts on a daily basis.
Pro tip: pay attention to the quality of the pearl as well as the chain. Cheap jewelry will weigh down your outfit and make it look unpolished, even if you are wearing expensive, designer clothes. However, if you choose a high-quality pearl pendant necklace, you can wear it with the simplest outfits and it will still manage to make your complexion glow.
2. Semi-Formal Outfits
Most women vacillate between looking chic and feeling comfortable. If you like to wear elegant outfits some days of the week, but you're not afraid of going out in sneakers either, you'll welcome a single Freshwater pearl pendant with a feminine color like peach, rose or pale beige. Extremely sophisticated and classy, this type of pendant will look beautiful with office wear (think silk blouses and tailored blazers) as well as with your weekend outfits (think cozy striped sweaters or hoodies).
Pro tip: it's important to choose the perfect necklace length to suit your body figure. If you usually wear plunging V-necks, go for a pearl pendant necklace that will fall under the collar bone. Don't hesitate to have your necklace adjusted by a professional jeweler to make it look perfect. The custom made vibe will help convey a polished look for all your outfits.
3. Formal Attire
Wearing elegant suits during weekdays and cashmere cardigans over the weekends qualifies your wardrobe as formal and elegant. Accessories are highly important since they can easily become a deal breaker. As a rule of thumb, stay away from fakes, dupes or imitations that could ruin a perfectly studied look. Instead, elevate your cleavage with a sophisticated White South Sea pearl pendant on a 14k yellow gold chain. This jewelry item will look splendid with dresses, suits and delicate shirts, without overwhelming your outfit.
Pro tip: formal attires are usually best matched with gold jewelry. This stands for professionalism and great taste. However, if you're not a big fan of yellow gold, choose white gold, which looks and feels better than silver. What is more, it will also last longer, so you can enjoy your beautiful pearl pendant necklace for years to come.
Image source: 1, 2, 3, 4, 5, 6
(Visited 300 times, 1 visits today)