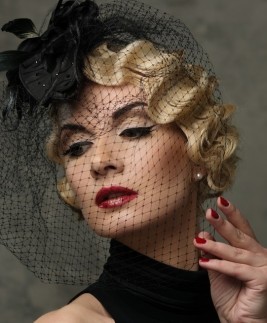 Pearls have fascinated both men and women over the centuries and have been used for more than just making fine jewelry. Once rare and ridiculously expensive, real pearl earrings are nowadays more affordable thanks to advanced techniques that provide lush gemstones with gorgeous orient. This is what draws the clear line between real, high-quality gems and glass bead pearls: the orient. The iridescent layer surrounding the pearl is a shifting color that seems to play around on the surface of the gemstone.
Thanks to their orient, pearls are one of a kind: they make our complexions glow, bring warmth to any outfit and instantly elevate any attire. To say that imitation pearls fall short of the mark would be an understatement. Their luster is mediocre and they fail to emit that powerful glow only real pearls have. The latter are not only a distinguished jewelry item for a woman's collection, but also a true investment that pays off over the course of many years.
Pearl earrings have become a must in the modern woman's wardrobe. Never leaving the red carpets or the runways, real pearl earrings are no longer the loving gift of the husband for the demure housewife. Completely in control of their lives, powerful and influential women nowadays buy their own accessories. Here are just some of the reasons why these women choose real pearl earrings.
Real Pearl Earrings Boost Confidence
You don't have to be a Hollywood star to need a boost of confidence. Whether you're getting ready to give a presentation or it's another day at work, you'll find a putting on real pearl earrings instantly makes you feel like the world is your oyster (no pun intended).
Unlike a pearl necklace or a pearl bracelet, pearl earrings won't overwhelm your outfit. They add the needed amount of sophistication without making you look overdressed. Hepburn, an icon of sophistication and poise, was rarely seen without wearing pearls. She gravitated towards simple pearl stud earrings because she was fully aware of their power. Adding beautiful symmetry to the face, they frame the visage and bring out the natural beauty of the wearer.
Pearl Earrings Will Pass the Test of Time
We're used to thinking about real pearl earrings as the favorite accessory of our grandmothers. But this delicate jewelry item wasn't meant to be forgotten in the darkest corner of your jewelry case. The beauty of real pearls is that they effortlessly pass the test of time. Elegant and refined, you can wear a pair of real pearl earrings no matter the year.
The go-to jewelry pieces of Jackie O were pearls. From conservative business meetings to leisure activities with the kids, she never ceased to reach out for her pair of pearl earrings. Carefully looked after, pearls will remain glowing and beautiful for decades.
Pearls Can Be Worn at Your Wedding
The first choice of many brides-to-be, real pearl earrings have earned their reputation of wedding jewelry because they are timeless and elegant. Brides can rest assured that years after their big day they won't be looking at wedding photos and regretting their accessory choice.
A symbol of beauty and new beginnings, white pearls set in 14k gold will look stunning with a white wedding dress regardless of its design. Since pearls are feminine and delicate, they can easily be paired with pearl jewelry or other gemstones. It's not uncommon for brides to opt for pearl sets on the day they say "yes!" to their significant other.
Real Pearls Can be Passed down to Future Generations
If you yourself have inherited pearls jewelry from a loved one, you know how valuable they instantly become. On the one hand, they have a considerable market value and, on the other hand, they have an inestimable sentimental value. Real pearl earrings can stay in the family for years. They make thoughtful gifts for a number of occasions, from graduation gifts for young ladies or retirement gifts for mature women.
Pearls will never lose their value, both from a financial and a stylistic point of view, which makes them the ideal "something old" for any bride. Angelina Jolie's most prized gemstones are, without a shadow of a doubt, pearls. She likes to wear them whether she's walking the red carpet or taking a stroll with her kids. A symbol of strength herself, she looks incredibly powerful and confident wearing minimal makeup and a delicate pair of stud earrings.
Definition of Pearls: Sophisticated yet Surprisingly Versatile
While real pearl earrings are the embodiment of elegance and refinement, their ability to go with casual attire shouldn't be underestimated. Perfect for casual Fridays or going out for brunch, real pearl earrings won't fail to shine whether you pair them with stilettos or Converses.
Lady Di was a pearl aficionado not only for the sake of the cameras, but also in her free time. With an extensive collection of impressive gems and jewels at her disposal, she always seemed to be lured by the simplicity and unparalleled beauty of pearls. The representation of class and grace to this day, Princess Diana never failed to look polished in delicate pearl studs and no other jewelry.
Pearls Are no Longer Demure, but rather Stunning
Fast forward to our day and age, when we have all the information and needed resources at our fingertips via the internet. With so many available accessories, why should we choose to invest in real pearl earrings? The modern take on pearls has kept them in the limelight all these years. Canonized by Michelle Obama and Oprah Winfrey, pearls are now translating through poise and elegance rather than demureness and fragility.
Reinvented, real pearl earrings are emerging as a favorite of the new generations well. Emma Watson, Brown graduate and UN ambassador, is a paragon of brains and beauty.  Her choice of pearl earrings speaks volumes about this jewelry item's relevance and power in today's society. With a down-to-earth attitude and a wardrobe that depicts a contemporary, young and smart woman, Emma combines her traditional values with pieces of avant-garde jewelry. The result? She manages to strike the perfect balance between classic elegance and daring trends.
Image sources: 1, 2, 3, 4, 5, 6
(Visited 356 times, 1 visits today)