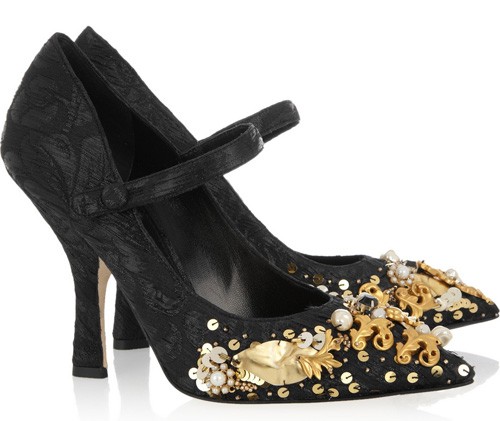 "Clutching Our Pearls" is all about horrendous and outright ridiculous fashion and accessories! But sometimes it features fashion that is so amazing that we can only clutch our pearls in amazement. We are really shocked with today's find and we look forward to hearing what you think.
Today's feature that has us clutching our pearls are the DOLCE & GABBANA EMBELLISHED BROCADE MARY JANE PUMPS.
These fashionable brocade pumps are made of crystals and faux pearls creating leafy details that can't be ignored. These fabulous shoes are perfect for an elegant occasion and worth every penny if you can afford to spend almost $1,700.
What do you think of these amazing Sicilian style pumps? How would you wear them?
Unfortunately, these beauties are sold out, but when they are available again, you can purchase them at Net-a-porter.com.
(Visited 72 times, 1 visits today)