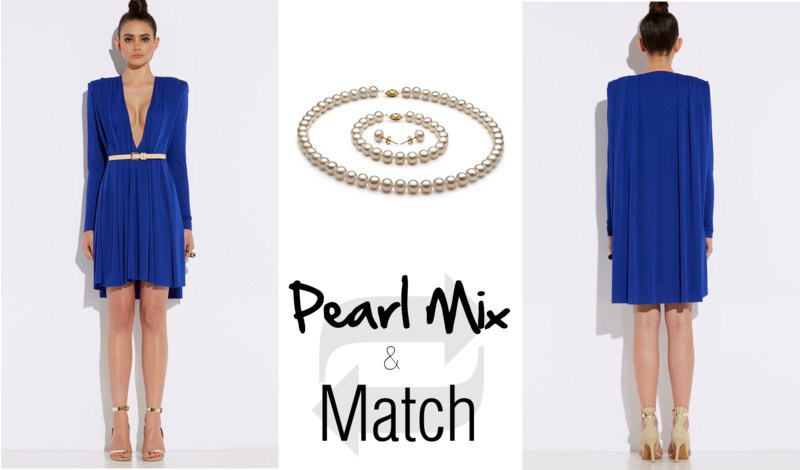 We, at Pearls Only, are forecasters of stylish must-haves items! This causes us to be constantly searching for items to add to our collection of great clothing and accessory items. We always look forward to sharing with you, clothing and accessories that you are in need of for your growing wardrobe!
Today in our "Pearl Mix & Match" we are going to show you a daring dress and a wonderful freshwater pearl set that will have people staring in awe! The great combination of this chic dress by aqaq.com, and gorgeous pearl set by Pearls Only is fantastic!
Get ready to known them all dead with this amazingly designed dress. What we like about this particular Bowie Blue Draped Mini Dress is that it comes from the AQ/AQ Exclusives Collection and the design is chic was a deep V plunge neckline and structured shoulder pads. The mini dress has pintuck detailing across the shoulders and an unfinished hem. As a bonus, it comes with a nude skinny patent belt and is available in Cream and Orange. Who can beat that?
The best accessories for this dress are the White AA 7.5-8.5mm Freshwater Pearl Set because it has a necklace, bracelet as well as a chic pair of earrings.
To make a look complete, pair with fly pumps, and total confidence—all will beg to have your style!
You can find the magnificent dress at aqaq.com for $241.50 and the gorgeous set on sale at Pearlsonly.com for $109.
What do you think of this look? Do you think that this dress and the pearl set works well together? Would you invest in these looks?
Are you interested in seeing more fashion-forward trendy clothing? Let us know…
Photo Credit: Pearls Only//aqaq.com
(Visited 98 times, 1 visits today)