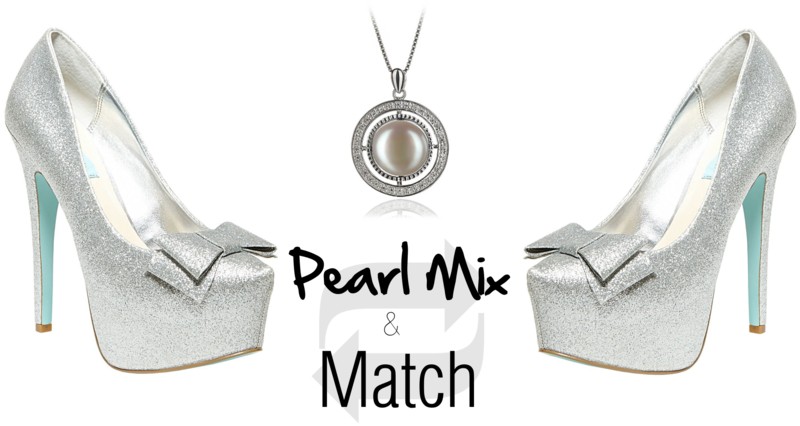 We, at Pearls Only, are forecasters of stylish must-haves items! This motivates us to frequently search for items to add to our collection of great clothing and accessory items. We always look forward to sharing with you, clothing and accessories that you are in need of for your growing wardrobe!
Today in our "Pearl Mix & Match" we are going to show you a pair of heels that will have you strutting your stuff this holiday season, and a pearl pendant made to catch attention.  The wonderful combination of these shimmering heels by BetseyJohnson.com and beautiful pearl pendant by Pearls Only are fantastic!
What we like about these Betsey Johnson Sb-Gala heels is that they are perfect for the holiday season and they can be yours for a great price. Betsey's SB-GALA almond-toe platform pumps sparkle with a glitter finish and an adorable bow detail.
The best accessory for these spectacular heels is the Pearls Only Celia Pendant – White AA 12-13mm Freshwater Pearl Pendant because the genuine high quality white freshwater pearl fits perfectly in the pendant form and the cubic zirconia detailing makes the necklace really shine.
How to Wear:
Wear the heels for a dressy formal event this holiday season with a solid cocktail length dress along with the stunning pearl pendant and a dressy headband for a chic star-inspired style. Enjoy a night out on the town with a pair of black tights, a statement blouse, an oversized bun, along with these heels and pearl pendant and you won't be able to stop onlookers staring!
You can find the chic heels for $99 and the gorgeous pendant at Pearlsonly.com for $69.
What do you think of this accessory combination? How would you style the items? Are you into sparkle and pearls?
Would you like to see more fashion-forward trendy clothing? Let us know…
Photo Credit: Pearls Only// BetseyJohnson.com
(Visited 180 times, 1 visits today)