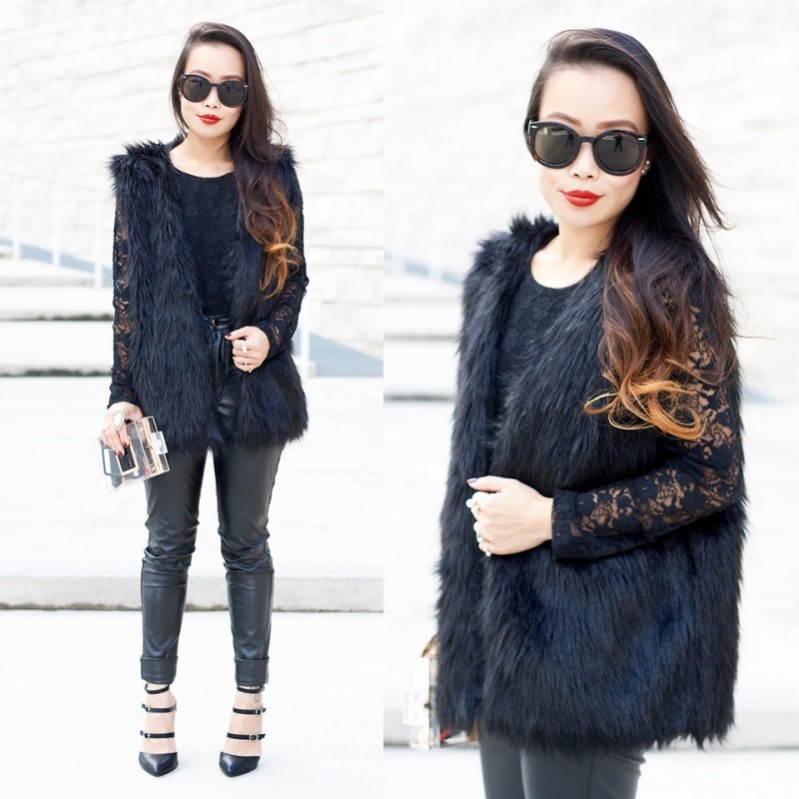 This Fashionista was chosen as our "Fashionista of the Day in Pearls" because we really loved how she made an all-black style look wearable. It is so simple but completely chic because she used texture, and accessories to make the look fashionable.
Toshiko S., style blogger of Its Not Her It's Me, showed off her style with this unique combination of a pair of sunglasses by Zerouv.com;, a fancy lace long sleeve top by Wet Seal; a faux fur vest by Armani Exchange;  a cute perfume bottle clutch and strappy heels from Make Me Chic; and a beautiful pearl ring.
She shared some insight on her look and inspiration:
"This outfit might be one single shade from head to toes but it is composed of a variety of textures… lace, fur, and leather. Although I have been mixing a lot blacker into my wardrobe lately, I haven't yet worn a completely black ensemble. This was an exception, since it was part of my Halloween costume (sans the cat mask). I wore a lovely faux fur vest from AX Paris, a lace top from Wet Seal and a pair of high waisted leather pants I've had for ages. I added some fun to this monochromatic look with a clear perfume bottle clutch from MakeMeChic and a gorgeous Bohemian Bardot ring in metal gold by Samantha Wills. This might just be my favorite Bohemian Bardot (I also have it in the paw paw and gold combo and the pearl) but it's hard to say… they are all so beautiful!"
We think this Fashionista looks very on trend and completely stylish, and we think you will too.
What do you think? Does she look chic? Are you into the mixed textures?
Visit Toshiko at her website: itsnotheritsme.com
Photo Credit: itsnotheritsme.com
(Visited 170 times, 1 visits today)