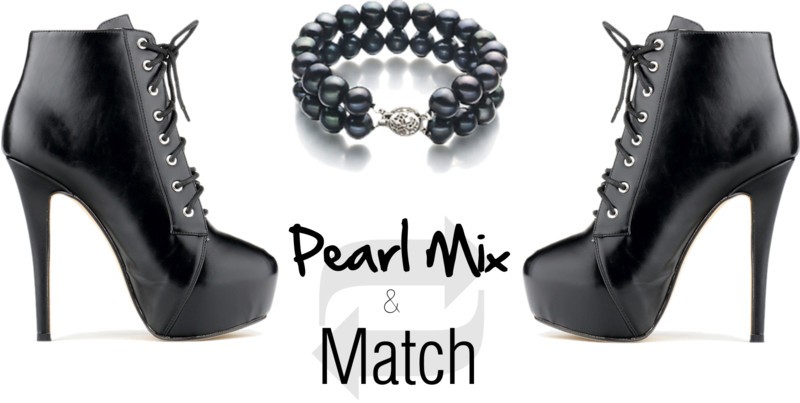 We, at Pearls Only, are forecasters of stylish must-haves items! This causes us to be constantly searching for items to add to our collection of great clothing and accessory items. We always look forward to sharing with you, clothing and accessories that you are in need of for your growing wardrobe!
Today in our "Pearl Mix & Match" we are going to show you a pair of boots that will have you strutting your stuff, and a pearl bracelet that will look stunning on your wrist.  The great combination of these bold boots by blackfive.com and beautiful pearl bracelet by Pearls Only are fantastic!
What we like about these Platform Lace-up High-heel Ankle Boots is that they are simple and fashionable making them easy to wear with anything! The lace up detailing and platform is very complementing and works well to create a solid look for the wearer. As a bonus, they come in 4 PU leather colors: Coffee, Orange, Yellow, and Black.
The best accessory for these kind of boots are the Pearls Only Black A 8-9mm Freshwater Pearl Bracelet because the double strand design is bold enough to capture the eye of accessory lovers that can appreciate a great set of pearls.
How to Wear:
To make a look complete wear a red ¾ sleeve maxi dress with a lovely oversized bun and small stud earrings.
Also a pair of jeans and a button up blouse can give the look a little edge!
You can find the chic boots for $54.99 and the gorgeous bracelet at Pearlsonly.com for $69.
What do you think of this accessory combination? How would you style the items? Would you invest in the items in our Pearl Mix and Match?
Are you interested in seeing more fashion-forward trendy clothing? Let us know…
Photo Credit: Pearls Only//blackfive.com
(Visited 160 times, 1 visits today)