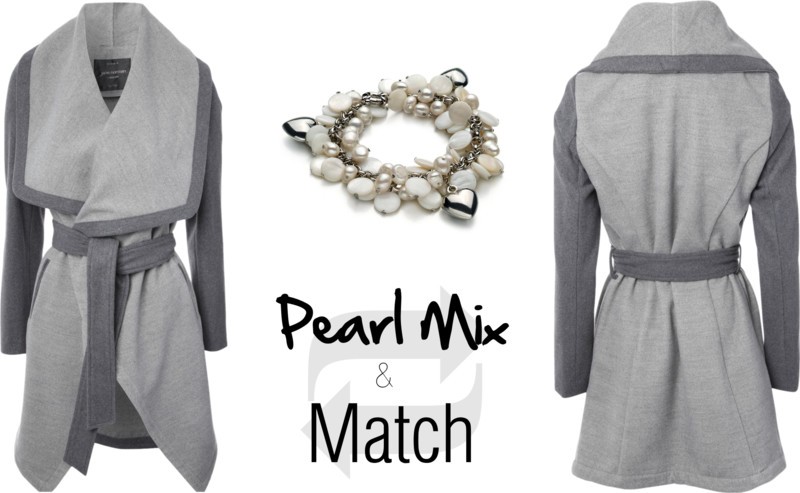 We, at Pearls Only, are forecasters of stylish must-haves items! This causes us to be constantly searching for items to add to our collection of great clothing and accessory items. We always look forward to sharing with you clothing and accessories that you are in need of for your growing wardrobe!
Today in our "Pearl Mix & Match" we are going to show you a coat that will make you "ooh and ahh", and a pearl bracelet that will look charming on your wrist.  The great combination of this sharp coat by janenorman.co.uk and beautiful pearl bracelet by Pearls Only is so fashion forward!
This coat is very well constructed and completely chic! What we like about this Belted Waterfall Coat is that it features a waterfall front, belted waist, front pockets for holing your little necessities, and great length.
The best accessory for a coat this stylish is a Harmony – Pearl with Heart Charms Bracelet – White A 6-7mm Freshwater Pearl Bracelet from Pearls Only. You can never go wrong with a charm bracelet filled with pearls, hearts and delicate shells?
To make a look complete and totally fashionable, we suggest wearing a pair of pearl earrings, fitted dark blue jeans, black knee high boots, and a gorgeous blouse. This look will not only be completely flattering to your body but it will also make you look like you spent a million bucks!
You can find the chic coat at janenorman.co.uk for £65.00 ($104.60) and the gorgeous bracelet at Pearlsonly.com for $49.
What do you think of this accessory combination? How would you style the items? Would you invest in the items in our Pearl Mix and Match?
Are you interested in seeing more fashion-forward trendy clothing? Let us know…
Photo Credit: Pearls Only// janenorman.co.uk
(Visited 214 times, 1 visits today)