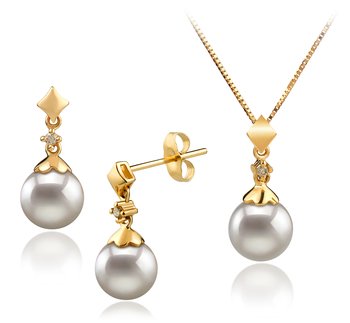 The Christmas season is on, pearl lovers. Looking for a nice and thoughtful Christmas present? This holiday gift guide will show you some beautiful pearl jewelry gift ideas for the woman you love and appreciate so much. Grab a cup of warm coffee and tea, get comfortable and spend 10 minutes reading this article. Find out what holiday gift is appropriate for your mom, wife and sweet daughter.
The women in your life deserve a stunning piece of jewelry that will last beyond the season…so make sure to check our suggestions and to pick the one that you consider best. Since white is the predominant winter color, all these jewelry gift sets are made of white pearls, decorated with silver or gold.
7 HOLIDAY GIFT IDEAS FOR HER
1. Here is a first tip. Christmas gifts for moms are easy to find if you know what kind of earrings she wore last time you saw her. If she prefers buttons shaped earrings or studs, then go for a pair of real pearl studs and a gorgeous pearl necklace that compliments it. This pearl set is a wonderful holiday gift because not only is she going to wear it at the Christmas dinner, she will also be able to wear it many years after. With no two pearls alike in shape, body, or overall grade, she will get a necklace, bracelet and earrings that are as unique and magnificent as she is.
This complete pearls set is our first holiday gift idea because it's a classic that should be in everyone's jewelry collection. It's what we call it a "timeless gift"!
2. Is your mother or wife a wearer of statement earrings? Does she fancy something with a modern twist? Then the next gift idea will come as nice and well designed surprise. Our collection of pearl jewelry can satisfy any taste. The Lilian Pearl Set has this chic geometric design which will give you a remarkable look. Due to the shining silver diamond shape, it instantly adds a modern and original touch to any outfit. Plus, the pearl pendant can be worn separately.
3. Surprise your lovely daughter with a delightful pearl set that will create beautiful memories. The Christmas holiday is a great occasion to give your girl her first pearls. Let her know that you consider her ready to receive this kind of formal gifts. You can initiate your girl into this fascinating world of pearls and offer her style tips that will always remain fashionable. Such delicate pearls make a memorable holiday gift! The pearl size is perfect for young girls or petite women.
A pair of earrings with a pearl necklace is exactly enough to make her fall in love with the beauty of pearls. She can wear them together at formal events or she easily wear them separately and complete casual and charming looks.
4. Create a long-lasting memory with this exquisite pearl set with gold accents. Ideal for someone mature and a taste for fine jewelry, these white Japanese Akoya pearls are the definition of elegance and sophistication. You will definitely surprise her with your impeccable taste as well. Every time she wants to to glam up, this pearl set will give her the dose of refinement that she needs. Sparkles in her eyes, sparkles in her ears!
5. When was the last time you saw your mother, grandmother or wife wearing pearls? It does not matter if it was yesterday or last year. Another Christmas gift idea, suitable for the woman who loves to wear pearls no matter the occasion, is this special Pearls Set in Weave White. The silver decorations and the milky white pearls spark like beautiful snowflakes. Create a beautiful winter memory without spending a fortune! For a lady desiring the look of exquisite elegance, this holiday gift is exactly what she needs.
6. Another pearl set made of Japanese Akoya Pearls is this White Anya Pearl Set. Absolutely magnificent! Since every skin tone blends well with gold, you will not fail to surprise her. Is she a glamour girl or the office lady who sets the fashion tone? This gift is perfect for everyone who loves attending formal or family events, who has an impressive wardrobe and a clear sense of style. The 14K yellow gold link styled pendant and earrings feature a two-link design extending down with the white Japanese Pearl gently swaying under in its entire splendor. With this kind of gift, you're actually investing in her smile!
7. Finally, here is our White Rozene Pearl set. Unique and alluring, this matching set takes on the world of diamonds, pearls and white gold. The three most important factors to a fashionable loving woman's heart, they will steal it if you are not careful. Eternal and graceful, the Rozene White 8-9mm AAA Quality Japanese Akoya Pearl Earrings and Pendant Set displays the style and grace deserving of a true lady. Sweep her off her feet with this amazing Christmas gift!
All in all, we hope you found this short holiday gift guide useful and just in time for picking the right holiday gift. Christmas presents are a perfect way to show our love and appreciation. Sometimes, there are not enough words or things to express our feelings, but the intention matters more than any word. It's the simple gesture that puts meaning into your present. Maybe it's not a coincidence the fact that the word present has a double meaning: "now" and "gift". It offers us a great perspective. It can mean that the gift that I am offering you now should always remind you about my love. Now can be today and every other day.  In conclusion, pearls are wonderful holiday gift ideas that express the eternal present. May the holiday spirit bring you peaceful moments, harmony and jingles of smiles.
(Visited 123 times, 1 visits today)