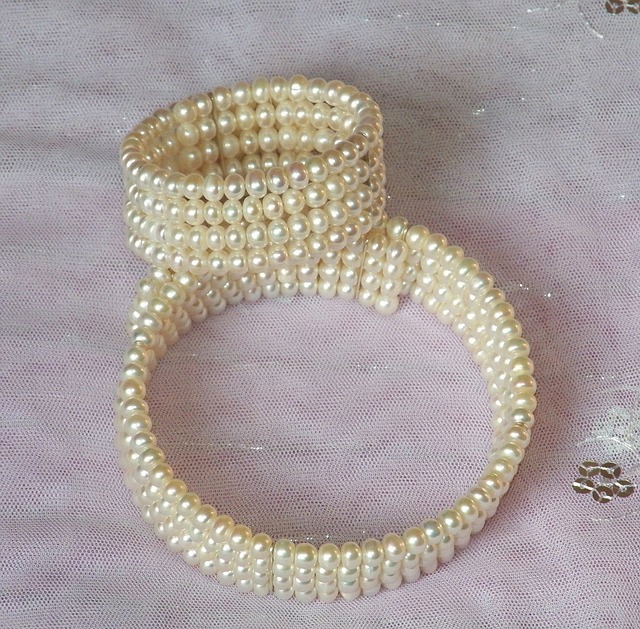 At same stage, we all find it hard to choose which of your pearl jewelry to wear with a particular outfit.  Especially, as you may find that some colours are more difficult to coordinate with outfits than others.
The right kind of pearl jewelry including a pearl bracelet with help to bring an outfit together.  Not only will it make you look great but also feel great as well.  But if you select the wrong kind of pearl bracelet to go with your outfit it can make things look a little clumsy, unpolished and even unprofessional.
Below we are going to offer you some advice about how to coordinate that beautiful pearl bracelet you have with your wardrobe.
It doesn't matter what sort of pearl jewelry you own it will add a touch of elegance and sophistication to any outfit.
Pearls even those to be found in a beautiful bracelet are one of the most timeless pieces of jewelry that any woman can own.  In fact, you may find that you feel naked when you don't wear yours.  As well as adding a touch of class and sophistication to your outfit they can also add a touch of refinement.
The great thing about all kinds of pearl jewelry is that it goes perfectly with simple, tasteful ensembles.  Even will add a final touch of elegance when you choose to wear a more modern outfit.
Are you someone who regularly wears a pearl necklace or earrings, well sometimes just choosing to wear a beautiful simple pearl bracelet are a much better option.  It can quickly transform even your everyday attire into something a little more special.  A pearl bracelet is the perfect piece of jewelry to wear on an evening out adds a touch of grace to a more dramatic look.
It doesn't matter what the occasion is you will find that there are plenty of ways to be able to coordinate a pearl bracelet with your wardrobe.
Tips On How To Coordinate Your Pearl Bracelet With Your Wardrobe
Our tips below will help you discover the various ways that will enable to wear your pearl bracelet with any outfit in your wardrobe.
Tip 1 – Choose Pearls That Match Your Skin Tone
As you will know there are many different kinds of pearls you can buy, all of which come in a variety of different colours and sizes.  You can buy pearl bracelets made up of white, cream, lavender, pink, green, gold, grey or black coloured pearls.
But it isn't all about colour pearls now come in a range of different shapes.  You can get round or near round shaped pearls, along with oval or pearls that seem to be slightly pearl-shaped.  We mustn't also forget the baroque shaped pearls.
When it comes to wearing pearls even those in a bracelet choose a colour that complements your skin tone.  Not only will the pearl bracelet stand out more but will look even prettier against your skin.
For women with cool skin tones, opt for pearls with a warmer colour, so choose ones that are pink, lavender or gold in colour.  For women with much warmer skin tones, you can be a little more daring and choose black or white pearls, you can opt for pink or lavender pearls if you wish.
Tip 2 – Go For A Single Strand Or Layered Pearl Bracelet
There isn't anything quite as charming and delicate as a  black pearl bracelet made up of just a single strand of pearls.  This is the kind of classic look you can wear not only to work but also out for lunch with your girlfriends or when going out for dinner in the evening with your partner.
But also don't be afraid to wear several strands of pearls as well.  By choosing to wear several strands layered together it will help to create more of a statement. You could choose to simply wind your pearl necklace around your wrist several times.  But much better is to choose to buy a pearl bracelet that comprises 2 or 3 rows of pearls in the design.
Another option is to wear say two or three different styles of the bracelet together.  You could choose to wear a pearl bracelet made up of pink pearls along with one that includes black, gold or white pearls in them.  Also, think about wearing a pearl bracelet that is made up of a mixture of different sized pearls in the design.
Tip 3 – Choose To Wear A Pearl Cuff
If you are going to be attending a very formal event then think about adding a beautiful pearl cuff to your ensemble.  This kind of pearl bracelet is an absolute stunner and will really make a statement when worn.
Today such pieces of pearl jewelry are made up of between four and five rows of pearls of a similar size.  They are then held together using either silver or gold accent pieces or a clasp.
The more rows of pearls in such a bracelet will create an even more dramatic look to your outfit.  You need to make sure however you choose a style of pearl cuff that compliments your style the best.
Tip 4 – The Single Pearl Bracelet
If you want to create an eye-catching look, yet like to keep things simple then a bracelet containing just one pearl is the perfect choice for you.
These days you can buy pearls loose and then have someone create a bracelet for you inserted either into a sturdy bangle or hanging from a very delicate silver or gold chain.  This is the kind of bracelet you can wear every day and with any outfit in your wardrobe.  Would look especially good teams with a pair of jeans and a crisp white blouse.
Tip 5 – Opt For Different Texture And Style Combinations
By mixing and matching accessories, including jewelry is a great way to help you with creating a more unique look.  A look that really helps to show off your personality.
What may surprise you is that pearls do go well with pretty much everything you may already have in your jewelry collection.
Wearing a pearl bracelet can help to add a touch of femininity to a more edgy look or even help to make an old piece look new.
Tip 6 – Stacking Is Great
When you wear a tahitian pearl bracelet with other kinds of bracelet designs will certainly help you make a statement.
These days stacking of jewelry including bracelets is proving very popular, and has been favoured by women for quite a number of years now.  Be willing to be a little more adventurous and the more diverse the types of bracelets you choose to wear the better.
You could team your pearl bracelet with any of the following:
Braided or chunky metal bracelet
A bracelet that is made up of beads in different colours and patterns
Studded leather wrap bracelet
Bracelet cuffs made of thick silver or gold
A beautiful pearl charm bracelet
Even wear yours with a watch
Tip 7 – Wearing Pearls With Different Clothing Styles
Most women tend to think that pearls should only be worn for more formal or fancy events.  But this isn't the case.
As you will soon discover you can wear a pearl bracelet whenever you like.  They will look fabulous with many different looks.  If you want to make a statement pair your bracelet with an outfit that most would not expect you to wear it with.
For example, why not pair your pearl bracelet with a pair of jeans, a short sleeve top and a pair of ballerina pumps.  This will add a little something extra to what you consider everyday wear.
A simple white pearl bracelet will look even great when you choose to team it with a chambray shirt.  In fact, this is a really cute combination and will suit women of all ages.
For work, a white blouse paired with a pearl bracelet will really help to give your whole work ensemble a very classy look.  Choose a pearl bracelet in a different colour to add a touch of femininity to the whole outfit.  Or choose to wear a bracelet that includes exotic black Tahitian pearls in the design.
Find Your Bracelet Style
It doesn't matter if you choose to wear your pearl bracelet with other kinds of jewelry or as the only accessory to your favourite outfit.  There are plenty of ways for you to include pearls in your wardrobe today.
It really is all about finding a design that you like then mix and match the pieces from there.
Browse our collection of pearl bracelets to find one that you love and will know you will wear forever.  We have a wide selection of different styles of pearl bracelets to choose from here at PearlsOnly.com, so finding something that suits your tastes shouldn't prove difficult.  Remember the whole point of owning pearls is to then wear them, as they love to be close to you.
(Visited 67 times, 1 visits today)