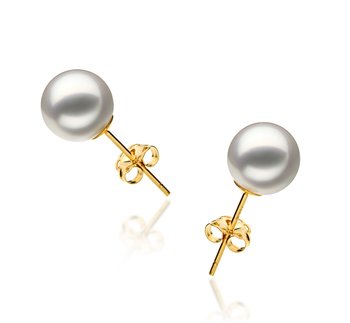 Like a stunning pair of Christian Louboutin shoes, we consider Hanadama pearls to be among the finest of all these gems that a woman can own.
This range of pearls was given their name by one Kokichi Mikimoto (Father of Cultured Pearls).  This is a term that has been used by him that helps better to describe them as being the finest of all the pearls you could want to buy and own.
Hanadama pearls like others have a classic elegance to them that can make any woman wearing them seem sophisticated.  Even the simplest piece of Hanadama pearl jewelry is the perfect accessory and can be worn with any kind of outfit at any time.  But of course, nothing really helps to make these beautiful gemstones shine than when you choose to wear them with an elegant little black dress for that special night out with your loved one.
So How To Wear Hanadama Pearls? 
In many ways, any piece of jewelry containing Hanadama pearls is a very sound investment from both a practical and symbolic perspective.
The problem is that although these pearls are elegant if you do not accessorize them properly they can start to look a little outdated.
When you wear any Hanadama pearl jewelry properly it will help you look more fashionable and sophisticated, even when you wearing with normal everyday clothes.  Yes, you heard me right; you don't have to wear say your Hanadama pearl necklace for formal occasions only.  It is perfectly acceptable to wear yours with a crisp white t-shirt and a pair of jeans if you like.
However, if you are quite sure about what you should team your Hanadama pearl jewelry with, then this short guide should provide you with everything you need to know.
Think About The Luster And Colour Of The Pearls
It is important that you choose to wear say your Hanadama pearl earrings, necklace or bracelet with clothes that help accentuate their colour and luster more.  As these pearls have such a high-quality luster to them they reflect light off their surface a great deal more.
You may want to consider wearing say a Hanadama pearl bracelet that isn't made up of the same size pearls, but one that is made up of pearls of various different sizes.  Not only will this add a whole new dimension to your look, but will help to bring out the beauty of the pearls luster even more.
Think About Your Skin Tone
When it comes to wearing any kind of Hanadama pearl jewelry, you should also take into account your skin tone, along with the colour of your eyes and hair.
Women with a paler complexion should actually go for say a Hanadama pearl bracelet made up of cream coloured rather than white pearls.
Whereas women with much darker complexions can really go for any colour they like when it comes to wearing Hanadama pearl studs or necklace.
Tips On How To Wear Hanadama Pearl Jewelry With Confidence
As well as the above here are some other guidelines worth considering when it comes to wearing any kind of Hanadama pearls this year.
Dress Down The Classic
It is definitely okay for you to try out a few alternative pieces of pearl jewelry if you like.  But there isn't anything wrong with sticking to the more classic pieces as well.  You can make any Hanadama pearl earrings look more modern by teaming yours with more casual outfits.
Why not try wearing yours with a pair of black trousers even jeans and a white shirt.  You could if you want even make them look less conspicuous by teaming them with a simple white or black t-shirt and your favourite jeans or denim shorts.
Layer Up Those Pearl Necklaces
To add a little more modern twist to your whole outfit rather than wearing one single strand of Hanadama pearls, you wear say two or three pearl necklaces of differing lengths.  You could even think about wearing different coloured pearls or other gemstones in the necklace together as well.
If you cannot afford to buy several pearl necklaces then you may want to consider just buying one long length Hanadama pearl necklace.  Choose a necklace containing Hanadama pearls that measures say 23 inches in length.
You can then choose to wear it as a necklace or if you like you can simply wrap it around your wrist to form a bracelet.  It would also look fantastic twisted around your neck a couple of times to look like a double choker.
Don't Be Afraid
When it comes to wearing Hanadama pearl earrings the great thing is that they actually complement all face shapes.  Although considered to be the "Ferraris" of the pearl world, it doesn't mean you cannot wear them whenever you like.
The simplistic design of Hanadama pearl earrings means they can be worn with just about any outfit in your wardrobe.  They look great when you team them with say a nice crisp white blouse and a pair of black trousers, as well as with that all-important LBD in your wardrobe.
If you would like to be able to wear your earrings containing Hanadama pearls whenever you like to opt for ones that include pearls in them measuring no more than 7mm in diameter.
Accentuate Other Areas Of Your Body
Most women tend to neglect their hands and arms when it comes to wearing jewelry.  Most women tend to avoid wearing bracelets because they often feel obtrusive.  But you will soon discover that a Hanadama pearl bracelet can prove to be a very versatile piece of jewelry to own.
This kind of jewelry will add a touch of refinement to any outfit you choose to wear it with.   Not only does this piece of Hanadama pearl jewelry look amazing when worn on its own, but it will also look even more amazing if you choose to pair it with a matching Hanadama pearl necklace or earrings.
Choose a Hanadama pearl bracelet that includes a yellow or white gold clasp in the design.  The reason for this is that the colour of the metal will help to emphasize the luster of the pearls even more.   Also, go for the colour of the metal in the clasp that actually suits your skin tone as well.   For darker skin tones go for a bracelet with a white gold clasp, whilst for lighter skin tones a yellow gold clasp would be more suitable.
Mismatch Yours
For a more irreverent take on what many would deem to be the classic look try mismatching your Hanadama pearls with other kinds of jewelry.  For example team, a beautiful pair of drop Hanadama pearl earrings with say a much bolder brighter sculptural necklace.
If you do go down this route when it comes to wearing Hanadama pearls make sure you keep the silhouette of your outfit simple.  This will then help to accentuate the natural beauty of the earrings you've chosen to wear.  In fact, a beautiful pair of Hanadama pearl earrings would look stunning when teamed with a boho-inspired dress and a pair of flat sandals.
Go All Floaty
Often most women tend to wear their pearls with of course that little black dress as it helps to accentuate their beauty even more.  Yet you could actually if you want to wear yours with say a lace dress or some white tulle pieces.  This will help to further enhance the femininity of the pearls as well as help to enhance their shape and luster further.
Of course, you need not stick to white, you could also try wearing more exotic coloured items as well with your beautiful Hanadama pearl necklace, bracelet or earrings.   Why not team yours with say a dark red, green or even peacock blue top or dress.
Hopefully, we've provided you with some really good ideas that will allow you to wear your beautiful Hanadama pearl jewelry whenever you like.  Remember one important thing about any kind of pearl jewelry is that it loves to be close to your skin.
The more often it is worn, then the more beautiful the pieces will look.  But please don't forget if you want yours to last for years to come you need to take care of such pieces of jewelry properly.  So after being worn make sure that you clean them and store them away correctly.  You will then have pieces of jewelry that you can pass on to your children in the future, that they will hopefully love to wear them as much as you do.
Here at Pearlsonly.com, we have a fine selection of Hanadama pearl jewelry pieces for you to select from. If you aren't sure just what kind of jewelry you should be buying that includes Hanadama pearls in the design than take a closer look at our collection.  So finding an item that not only suits your tastes but also your budget shouldn't prove at all difficult.
(Visited 99 times, 1 visits today)