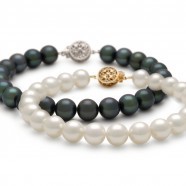 A pearl bracelet is a lovely addition to any jewelry wardrobe. With matching earrings and a necklace, the pearl bracelet is an essential part of a woman's pearl ensemble. Worn alone, a pearl bracelet is a simple and elegant statement perfect for any occasion.
Pearl bracelets have a long and rich history. In Imperial Europe, pearl bracelets adorned the ladies of nobility and rank. In ancient times, pearl bracelets were the most sought after adornment. It is rumored that noble women in ancient Rome wore a pearl bracelet to honor Diana, the goddess of the Moon. During the rule of the dynastic Emperors in China, the pearl bracelet was the essential ornament for his Empress.
In modern times, the black pearl bracelet as well as the pink pearl bracelet has become the updated classics to the traditional white pearl bracelet.
A black pearl bracelet can be worn to add an element of mystery and alluring elusiveness to any occasion. There is a dark luster combined with darting flashes of color in black pearl bracelets. 
Wearing a pink pearl bracelet can be just pure fun. The pretty color of a pink pearl bracelet will add a dash of feminine delight to the office, the formal occasion or with a pair of jeans and sneakers. Pearl bracelets can be stacked for that ultra-luxe layered look too!
Whether a woman chooses a white, black or a pink pearl bracelet, she will be wearing a modern classic jewelry piece steeped deep in rich and ancient history.
(Visited 87 times, 1 visits today)