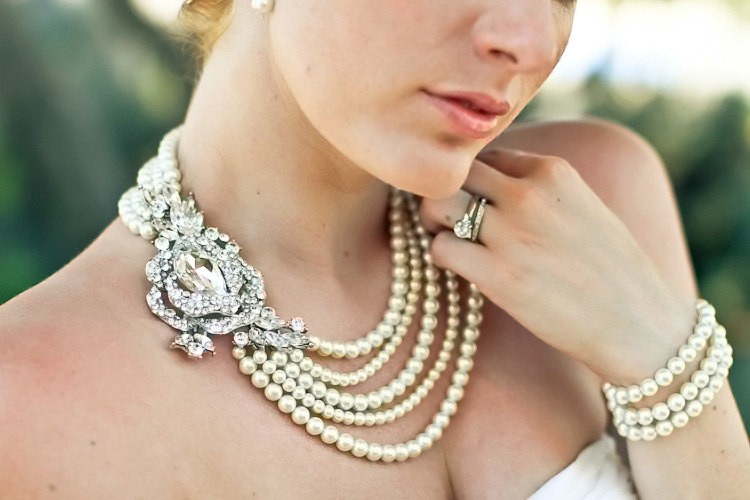 This week we, at Pearls Only, are celebrating the beauty of pearls. I know, we celebrate pearls everyday but this week we will be celebrating with a fashion stylist that knows the importance of wearing pearls and why they are associated with class, elegance, professionalism and great stature.
Tish Thomas, a fashion stylist that has worked with major campaigns that include, Saks Fifth Avenue, Target and Kenneth Cole, just to name a few, tells us where pearl are most effective on the body.
"Pearls are most effective on the neck, wrist, ears," says the fashion stylist who loves to make women look elegant. She is a pearl lover and can be seen wearing pearls especially in a professional setting.
"But my two favorite places are…" we ladies at the office, all leaned forward to hear what risqué place she would wear her pearls. "Nothing is sexier than a woman who wears a strand of pearls around her ankle or tracing the lines of her back!" We all clutched our pearls as we thought of the almost obvious yet genius way to wear the classic accessory.
We all agreed that a single strand of pearls running down the back is very seductive yet very subtle. A woman of a certain class knows how to be alluring without being too forward.
"I like to see a pearl anklet because it's unexpected, and pearls tracing the lines of her back give them a twist that appeals to the eye! Love it!"
So what kind of look goes with a strand of pearls down the back? Here are a few choices:
Do you like the idea of pearls heading south on your back? Is this how you would wear your pearls?
Up next, Ms. Thomas will share with us when pearls are NOT fashionable (is that possible?).
Until then…
Love and Pearls,
Ms. Elitou
Learn more about Tish Thomas at: www.tishthomas.com
Photo Source: banjaluka.com
(Visited 163 times, 1 visits today)