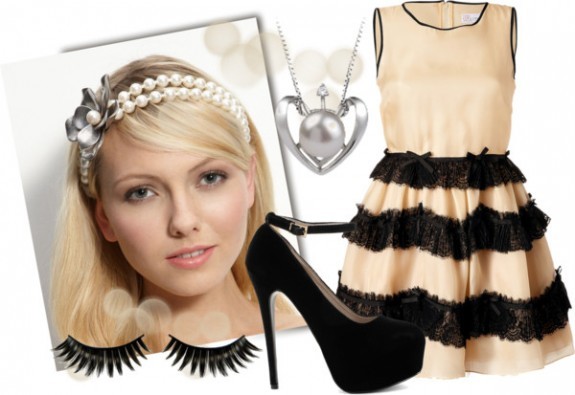 Lover's Day is getting closer and closer, and we want to make you day easier with an inspiration style board for your date night style.
Everyone associates Valentine's Day with red and pink but no one ever said it was a fashion rule. You can always switch it up and lessen the chance of you and another lady wearing the same dress by wearing a combination of beige and black. Your look can be instantly flirty and chic with this style which pairs a romantic beige dress with lace black detailing paired with a simple black statement heel and a delicate heart pearl necklace by Pearls Only.
We love this style because it is flirty and chic and can easy be taken from day to night when paired with black tights and a cover-up for those chilly nights.
You can also pair this look with a bright pink statement eye and nude lip. Show your delicate side by framing your face with wavy hair accompanied with a fancy pearl headband.  You are bound to get a goodnight kiss.
Looking for this wonderful pearl accessory? We attached the link below:
Heart Pendant White AA 9-10mm Freshwater Pearl Pendant
What do you think of the style? Would you wear?
(Visited 100 times, 1 visits today)