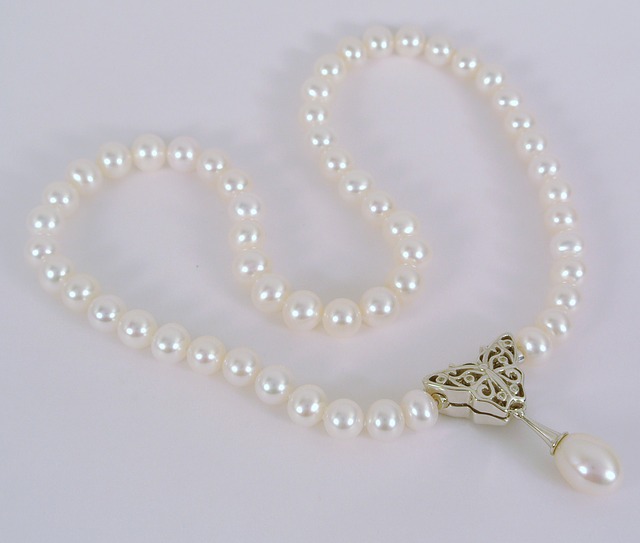 For some people, the giving of a gift doesn't always come naturally.  With Thanksgiving just around the corner deciding what to buy your wife, mother or daughter at this time of year can prove challenging.  However, a pearl necklace as a Thanksgiving gift is an idea worth considering. When chosen well, such a gift can help to elevate any woman's outfit no matter their age to something extra special.   However, the most difficult thing you are likely to be faced with is choosing the right pearl necklace for the woman or girl you have chosen to buy it for.
With so many different types of necklaces that are made up of pearls being able to choose the right one can prove quite challenging.  Here are a few things to consider that will help you when it comes to buying a pearl necklace as a Thanksgiving gift or even a Christmas gift.
Size Of The Person And The Pearl
As you will see pearls vary both in size and shape depending on the type they are.   A pearl necklace made up of freshwater pearls tends to measure in size from 2mm to 16mm.  Whereas a necklace made up of Tahitian or South Sea pearls measure from 7mm up to 20mm.  You can even find some baroque pearls used in a pearl necklace pendant that measure 40mm or more in diameter.
So what size pearl should you consider buying for your wife, mother or daughter?  Well to put it in simple terms the larger the woman then the bigger the pearl.  But this rule isn't one you need to stick to.  If you prefer you could buy such women a pearl necklace made up of 2 or 3 lines of smaller pearls.
However, you may want to keep the following in mind when you are choosing such a gift.
For a slim woman opt for a single strand pearl necklace containing pearls measuring 5.5 to 6mm in diameter.
For the average-sized woman you can opt for a pearl necklace choker that is made up of 8 to 9mm pearls or even a necklace made up of 2 lines of pearls measuring say 5mm in diameter.
For the plus-sized woman then pearls that measure 12mm in diameter would look stunning on them or you could also choose a pearl necklace made up of several strands of much smaller pearls.
Age Of The Woman
The younger the woman, the smaller the pearls in the necklace or pendant should be.  If you are looking for a Thanksgiving or Christmas gift for a girl aged between say 12 and 16 choose a pearl necklace or pendant with pearls measuring between 5.5 and 6mm in diameter.  If you choose something with larger pearls in the design it could look quite awkward on them.
For young women those that are in their late teens to early twenties then you need to consider buying them pearl necklaces containing these beautiful gemstones that measure between 6 and 6.5mm in diameter.   Such girls will tend to be close to their adult height, so of course, slightly bigger pearls will look more appropriate on them.
For more mature women those in their 30's, of course, you can think about buying a necklace containing pearls measuring from 7.5 to 8mm in diameter.  They make the perfect accessory for such women to wear with a wide array of different outfits.
Colour Of The Pearls
Of course, you could go down the route of buying a pearl necklace made up solely of white pearls.   But these days you have a great deal of choice of different colours to select from.  But it is important that you choose a colour that is going to flatter the woman or girl who will be wearing such a beautiful gift in the future.
It is important that you know the wearer's skin colour.  If the recipient of such a gift has a fair complexion then you can look at pearl necklaces or a pearl pendant necklace that contains pink, lavender, white or even gold coloured pearls in the design.  You may even find that they actually suit-wearing pearl necklaces that contain black or grey coloured pearls in them.
If the recipient has a much darker complexion then you really should look closely at necklaces containing black or grey pearls in them.  So you may want to consider buying them a Tahitian pearl necklace or one made up of dyed Freshwater pearls.    However, some women with a darker complexion also can wear much lighter coloured pearls.
Pearl Necklace Length
If you are thinking about buying such a gift for someone it is important to consider the length of the necklace.  You should choose a length that is suitable for not only who will be wearing it but also what they are likely to wear it with.  As you will discover there are several different lengths of pearl necklaces for you to select from.
To help you decide on the length to choose for the recipient we describe each one in a little more detail.
Choker
This type of pearl necklace measures between 12 and 13 inches in length.  Such a pearl necklace can be made up of one or more strands of pearls.   Best suited to older women as it helps to give the neck a little more elongation. It also looks stunning when worn with more formal outfits such as a little black dress.
Collar
This necklace measures between 14 and 16 inches in length and sits more loosely around the wearer's neck.   Looks great when worn with open neck tops such as a blouse or shirt to work.
Princess
This type is slightly longer than the collar length pearl necklace mentioned above.  Often such necklaces will measure between 17 and 19 inches.  This is the kind of necklace that can be worn with pretty much any outfit in a woman's wardrobe.   Not only does it go great with more formal outfits, but also casual ones.  As it lies on the wearer's upper chest it looks great teamed with a tight-fitting sweating or even t-shirt.
Matinee
These pearl necklaces measure between 20 and 24 inches in length and look great worn with business attire or when attending a semi-formal event.   As they sit lower down on the chest just above the breast area like the princess type this pearl necklace can be worn with a turtleneck sweater or tight-fitting top.
Opera
This is the longest length of the pearl necklace you can buy today.  Often they measure between 28 and 34 inches.  One great thing about such necklaces is that they can be worn in a variety of different ways.  The wearer can either choose to wear them as a single strand or they can choose to wrap the pearls around their neck a number of times to create a choker or multi-strand pearl necklace.
Budget for your Thanksgiving Gift
In the past, the price of buying such a gift was only something that the wealthy could afford to do.  However, the increase in the number of necklaces being sold made up of Freshwater pearls has helped to make this gemstone a lot more affordable today.
There are higher quality pearls available but of course, these will actually cost more.  But as you will find whether you invest in a pearl necklace or a pearl pendant necklace as a gift you are sure to find something that sits within your budget.
As already mentioned Freshwater pearls are now the most affordable, but if your budget allows you could actually consider maybe going for something a little more expensive.  If you are looking for something that is a little more exotic and unique and you have the fund why not consider buying a pearl necklace made up black Tahitian pearls.
If you want to give your wife or your mother a truly beautiful gift this coming Thanksgiving or Christmas then a pearl pendant necklace containing a single South Sea pearl is a wonderful option.  They come in a wide array of gorgeous hues and are among the largest of all pearls available.  But of course, this makes them more expensive to buy.
Never A Bad Time To Give Pearls As A Gift
Some may consider pearls to be somewhat delicate especially comparing them to say sapphires or diamonds.  It is this perceived delicacy that makes some women very wary about wearing such a beautiful piece of jewelry.  Yet they shouldn't be afraid, in fact, pearls love to be worn.  By wearing them the recipient is helping them to keep their beauty.
Here at PearlsOnly, we have an amazing collection of different kinds of pearl necklaces you can select from. So finding a really suitable pearl necklace that you can present to that special woman or girl in your life shouldn't prove at all difficult.  You may even want to consider buying them a pearl necklace set that includes a bracelet or earrings that match each other.
(Visited 52 times, 1 visits today)