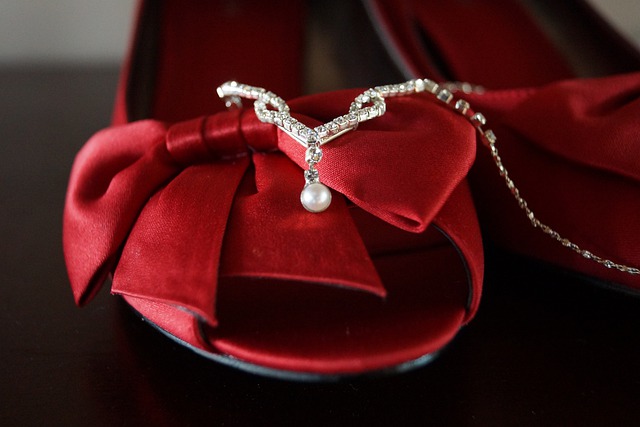 For centuries now pearls have long been seen as being among the most refined of all gemstones that can be incorporated into pieces of jewelry.  Now, these gemstones are proving to be popular once again with women of all ages. Yet if you choose to wear designer pearls it is important to make sure that they complement the rest of your outfit, including your shoes and handbags.   Rather than looking stylish and glamorous the look you end up with could be somewhat clumsy looking.  So we hope the following advice will help to ensure that when it comes to wearing pearls they look great with any outfit you choose to wear them with.
How To Accessorize  Pearls With Your Shoes And Bags
Make Sure To Choose The Right Pieces
It is important that you select the right pearls to go with each outfit you intend to wear them with.  If for example, you intend to wear pearls with say black jeans, a black t-shirt, and black boots, then go for something a little bolder.  Ideally opt for say a pink, lavender or gold pearl necklace made up of large size pearls.
You could even consider going for a long strand of pearls that you then wrap around your neck twice.  This will certainly add a touch of drama to your whole outfit.
Ensure That The Piece You Choose Coordinates With Other Jewelry
When it comes to accessorizing with pearls you should actually keep any other pieces of jewelry to be worn to the minimum.  As you will be aware pears are very eye-catching and so it is them that should be allowed to take center stage.
This is especially important when you wear them on a casual basis, to help avoid you looking overdone throughout the day.  So if you intend to wear pearls with say a printed sundress and a pair of brightly coloured sneakers opt to say wearing a pearl pendant necklace.  Then team it with a pair of diamond stud earrings.
Don't Get Too Trendy
A great many women these days love to wear pearls with casual outfits such as jeans, a crisp white t-shirt, and a jacket.  Of course, you could wear a nice pearl necklace with yours, but that pretty much what other women tend to do.
Instead, why not take your nice say black Tahitian pearl necklace and then wrap out around your wrist a couple of times to create a stunning looking bracelet.
When To Match Or Not To Match? 
A great deal of research has been carried out into this aspect of accessorizing shoes and bags with pearls.   Here are a few things that we've learned that will help you to decide whether or not to match your pearls with your other accessories.
When You Should Match Perfectly
If you are going to any kind of formal event then it is crucial that the pearls you wear match perfectly with your bag and shoes.   This will help to create a more elegant look and any pictures that taken will ensure that you look stylish throughout.
So when it comes to say going out to dinner team say your little black dress with a pair of black kitten heels and a simple black clutch bag.  As for your pearls opt for a simple white pearl choker or necklace and a pair of simple white pearl drop earrings.  If you really want to choose a bag that has some say silver or pearl detailing to it.
When To Go For A Partial Match
It's quite simple really if you intend to wear an outfit that comprises a number of different colours in its design.  Ideally, choose a pair of shoes and a bag that includes one of the colours in the rest of your outfit.  As for your pearls you should limit what you wear with such an outfit.
It is best if you keep things to a minimum when it comes to wearing say freshwater pearls with such an outfit.  Best to stick with one colour say either white, cream or even lavender coloured necklace, bracelet or pair of earrings.
Choosing items that match one particular colour in your outfit will help to make things look neater.  Plus it will add a whole new dimension to the way the outfit looks.  You also will have the opportunity to create a look that is totally unique to you.
When Is It Okay To Mix And Match?
If you are someone who likes to keep things simple and likes to wear more neutral colours then you can be a little bolder with your accessories.   For example, choose a bag and shoes or boots that are a contrasting colour to the rest of your outfit.
For example, if you intend to wear a long cream skirt with a cream jumper then opt for say a pair of red or dark brown shoes or boots and a red bag.   As for the jewelry again you can be a little more adventurous.
Yes, you could wear white pearls, but instead why not try some beautiful Akoya pearls that have been dyed black or wearing a stunning pearl choker made up of lavender, gold or pink coloured pearls.
This is the kind of look that you can wear throughout the day, and by choosing more vibrant coloured accessories you can actually create several different looks.
Take A More Is More Approach When It Comes To Pearls
You can never overdo it.  You only have to look at the likes of Rhianna and Coco Chanel to see that this is the case.
If you are at all unsure then just add another piece of pearl jewelry to your ensemble.  For example, why not wear a couple of pearl bracelets with different colour pearls in their design.  Just make sure that the colours you choose are ones that complement the rest of your outfit.
You don't have to just restrict yourself to wearing just a couple of bracelets or a couple of necklaces.  You can if you have the opportunity double up on wearing pearl earrings as well.  This look is very much on-trend at the moment and certainly even if you've only had your ears pierced once you can look at wearing say an earring cuff.
Wear Clothes Embellished With Pearls
There are plenty of garments, bags, and shoes that have been embellished with pearls this season and would look fantastic with a wide variety of different outfits.   The great thing about choosing such pieces to wear is it makes it much easier to co-ordinate your pearl jewelry with them.
Why not invest in a simple cardigan or jumper that includes some pearl embellishment to either the cuffs or the neckline.  Then with this, you could wear a very simple pair of pearl stud earrings along with a nice cream coloured bag and cream coloured ballet pumps.
Also, shoes and boots have been given the pearl treatment.  Why not team yours with say a black dress or black jeans and a nice crisp white blouse.  But rather than opting for pearl jewelry that matches the colour of the pearls on the shoes or boots opt for something completely different.   You could opt for a pearl necklace set that is made up of lavender, gold, cream or say black pearls in the design.
As you can see when it comes to being able to accessorize shoes and bags with pearls it's not as difficult as you first thought.  But it is important that you make sure that you choose pieces of pearl jewelry that compliment not only your outfit but also the other accessories being worn or carried.
A great place to get some ideas on how to really accessorize your pearls with shoes and bags is to look online.  There are plenty of places where you can get ideas, for example, take a look on Pinterest.  You'll be amazed at just some of the creative ways in which other women have chosen to ensure that their whole outfit looks amazing and unique.
However, at the end of the day, we can easily summarize the above for you in just one simple sentence.  It is: be consistent and do not be afraid to express your own particular style.  This is the real secret of how to look amazing when you choose to wear pearls at any time.
As you can see from above that pearls really haven't ever gone out of fashion. In fact, we are constantly finding new and inventive ways to wear pearls that not only do they look chick but also fresh.   Our grandmothers would certainly be very proud that we love to wear these beautiful gemstones today.
Here at Pearlsonly, we can offer you some great ideas to help you create the perfect look for you no matter what the occasion.  We have a stunning collection of pearl jewelry that you can choose from that will help you to create a look that not only suits your taste but also your budget.
(Visited 85 times, 1 visits today)