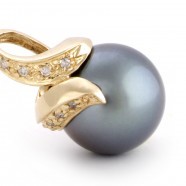 Pearl pendants add such a lovely sparkle and shimmer to every neckline for every occasion. A pearl pendant is a touch of demure and understated elegance. Beautiful pearl pendants can add a hint of radiance and feminine beauty to the office and boardroom. A pearl pendant worn with simple everyday jeans and sneakers will add a bit of fun and elegance.
Pearl pendants have a rich and deep history that date back to the classic and early history of mankind. In the Imperial courts of China, pearl pendants were awarded by Emperors for service or merit. If a soldier, noble, scholar performs a great deed; he is often given a pearl pendant as a token of the Emperor's deep appreciation and regard.
Pearl pendants then also became the awarded person's badge of rank as well as symbol of his titles and lands. Noble women and Empresses wore pearl pendants as they believed the pearl's beautiful natural glow and radiance will be transferred and enhance the beauty of the wearer. Their pearl pendant was an essential part of their noble and imperial wardrobe.
Pearl pendants were also worn by nobles and the wealthy in European courts a symbol of status and wealth. As pearls are natural gems, the luminescent glow of pearl pendants were thought to be protection against the unnatural.
Recently, jewelry collectors of refined tastes have discovered the mystery and allure of the Tahitian black pearl pendant . These pearl pendants are updated classics, combining the elegance of a pearl pendant with the deep dark luster of black.
A black pearl pendant is truly a bold touch to any occasion. Whether in an office or at a formal occasion, a black pearl pendant will add a subtle air of elegance combined with a hint of mystery. Pearl pendants are just so versatile!
A Tahitian black pearl pendant is very large and definitely very opulent. Heads will turn and jaws will drop at that next special occasion when an elegant lady makes her entrance wearing a Tahitian black pearl pendant. The luster and color of a Tahitian black pearl pendant is nothing short of legendary. Pearl pendants are just so elegant.
There are just so many wonderful choices to match every mood and every occasion with pearl pendants.
(Visited 71 times, 1 visits today)