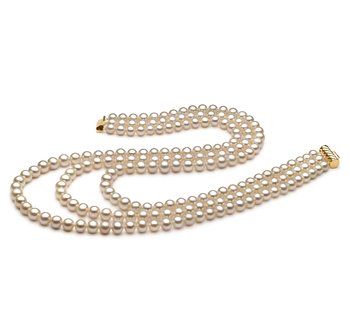 There is something special about wearing a triple strand pearl necklace. It is a beautiful and classic piece that many of us already own it or aspire to have it. Today we want to discover what makes it a fantastic accessory. Is it wearable during the day or during evening events? We want to know how a 3 strand pearl necklace can transform your entire outfit and how you can actually wear it. Continue reading to find out which is our favorite tip when it comes to accessorizing it and incorporating it into your entire look.
First of all, to feel truly unique, a woman will wear a triple strand of pearls paired with a little black dress and classic makeup. At least this is the safest option. But there are countless ways of wearing it.  Reminiscent of elegant Hollywood stars, the multiple strand pearl necklaces are a true fashion statement. You can easily wear it during the day, but also during evening or formal events. While it may be considered too much to pair it with a business outfit, three strands of pearls are just the necessary amount of chicness for a formal event. The famous triple strand pearl necklace Mikimoto created, inspired many pearl jewelers to create their own design. It became quite fast the most elegant piece among worn by celebrities around the world.
Freshwater pearls are the top source of pearls used in creating our triple strand necklaces.  They are all natural, versatile, and an affordable way to start off your pearl collection.
THE TRIPLE STRAND PEARL NECKLACE: OUR TOP 5 CHOICES
Next, we will show you our favorite freshwater pearl necklaces with triple strands. These statement pieces will enable women to display their adventurous style. You can integrate them into chic casual outfits, as well as formal elegant ones. They are all accessible, so hopefully, we will make your choice easier.
The shortest and probably the most versatile of pearl necklaces, the 3 strand pearl necklace choker (16 inches long) is that statement piece of high-end jewelry that completes a strapless dress, V-neck gowns and blouses. Usually chokers contain white pearls, which make them forever fashionable staple pieces. What is more is that they become precious possessions that you can pass from one generation to the next.
Therefore, one of our top choices is the exquisite triple strand white pearl necklace. We highly recommend it for its versatility, high quality freshwater pearls, and perfect balance between price and beauty. The 6-7mm white pearls are hand strung on a double knotted fine silk thread. Plus, each pearl is gently separated by a double knot to ensure its quality and prevent rubs.
Calling all brides-to-be! This stunning pearl necklace with three strands is going to wow everyone! The floating look of the pearls is obtained by the almost invisible filament. Consequently, your wedding gown is not  going to be overshadowed by massive strands of pearls. These various shaped pearls have a natural glow and shimmer. As a result, they will give you an alluring note without any doubt!
Intriguing, mysterious, highly sophisticated: this is the triple strand black pearl necklace. For a composed and out of the box outfit, we definitely recommend wearing this type of necklace. If you're the bold type, you can treat it as a statement piece of jewelry. You can easily wear it with a black dress, a white blazer or a red jacket. The Triple Strand Black 6-7mm AA Quality Freshwater Pearl Necklace has the potential and power to transform your entire wardrobe.
For someone who believes in natural beauty and true romance, this pink triple strand pearl necklace is ideal.  Because pink pearl pieces are especially delicate, they can accentuate a woman's most feminine characteristics. They go very well with soft and silky fabrics. Our selection includes refined  and graceful pearls that are bound to make a very strong impression, so be prepared to receive a lot of compliments. Designed for all occasions, it is versatile enough to be worn out with the ladies for an evening of fun and laughter or to the office for a busy day at work. You will be noticed and many will wonder where you found a piece as interesting as this triple strand of soft pink pearls.
With one long rope of pearls you can create a 3 strand pearl necklace vintage inspired look. It is very simple to achieve it as long as the rope is long enough. Regrading the ideal length, the 51" are enough to create two or three strands, so you are able to style it as you wish.  Moreover, our Pearl Necklace in Betty White displays unique and varied circular patterned shaped pearls. The characteristics of the pearls resemble drops, oblongs, rings, ridges and more.
HOW TO ACCESSORIZE THE TRIPLE STRAND FRESHWATER PEARL NECKLACE
We love suggesting you easy, yet extremely elegant ways of wearing our necklaces. As a result, this time we've chosen another versatile accessory that can perfectly complement the beauty of your pearls. A jewelry item with another jewelry piece? Yes! In case you want to upgrade the classic look of the triple strand pearl necklace (or any kind of pearl necklace actually), a 3 strand pearl necklace with brooch will do the trick!
You haven't worn a pearl necklace with a brooch before? Well, you should trust the magic of new beginnings. Pleasingly ingenious and simple, a brooch can brighten up your outfit.  We promise you'll fall in love (just as we did) with these chic and stylish brooch designs that we've picked.
Take a look at these two examples of handcrafted brooches from Flower Me. They will instantly win your heart. We noticed the intricate style, high quality craft and timeless design. The brand was founded in 2009 in Saint Petersburg by Ivlyana Makienko and we're happy to share with you such unique and exquisite brooch designs. Here is where you can find more accessories.
When we first saw Luna's brooches we knew we had to add them on our wish list :). They are handmade with grace, delicacy and attention to details. Do take some time to check her other designs on Instagram.
Next, we found so much originality, elegance, and skillfulness in the Oda Sanat brooches. They like to say that life is art. That's true and they are expressing it so well. A three strand pearl necklace with a brooch like this? Absolutely dazzling!  In case you want to discover new items, you can check their online shop here.
These handmade flower brooches from Secret Secret Garden are ultimate form of true sophistication. Nature in jewelry never looked more beautiful.  Just imagine in how many ways you can wear them! More brooch designs can be found on Etsy.
In conclusion, brooches are a wonderful addition to your pearl necklace. They will complement each other and will add a note of distinguished elegance to any attire.
CELEBRITIES WEARING THE 3 STRAND PEARL NECKLACE
As we previously mentioned, the three strand pearl necklace have become an irresistible attraction for famous ladies around the world. Real fashion icons like Jackie Kennedy, Angelina Jolie, Michelle Obama, have embraced this type of necklace and inspired us to create glamorous outfits.
The modern take on pearls has kept them in the limelight all these years.  Ever since canonized by Jackie Kennedy and then by Michelle Obama, pearls are now  a symbol of poise and elegance rather than obsolescence or fragility.
Furthermore, Angelina Jolie's most prized gemstones are, without a doubt, pearls. And we absolutely admire her triple strand pearl necklace.
We all know that the British Royal shares and contributed to a long history of appreciation of pearls. Queen Elizabeth almost never wears something other than her three strand pearl necklace during public events.
All in all, we hope you have enjoyed our suggestions. If you want to add a dash of glam to your outfits, don't hesitate to add a gorgeous triple strand pearl necklace.  Plus, every elegant woman who loves pearls should own one in their jewelry collection. This is not only an exquisite way of expressing your style, but also a timeless piece of jewelry. Lastly, it will stand the test of time and it can definitely represent a wonderful and precious gift for the coming generations.
(Visited 792 times, 1 visits today)