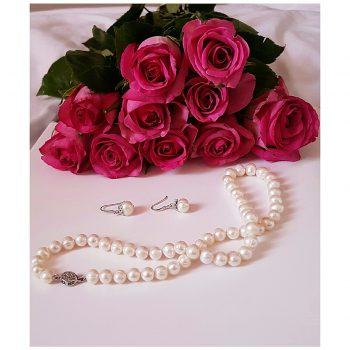 Today's post is about pearl anniversary gift ideas that are perfect for Mother's Day (for those of you who will celebrate it soon in May) and for any other kind of celebration. Our suggestions are suitable for wedding anniversary gifts, birthdays, or special occasions that are meant to surprise the woman you love and cherish.
Anniversaries are meant to celebrate love, respect, joy, time, and pearl gifts are always an elegant choice that match the occasion! And sometimes you don't need a certain occasion to do that! You can simply surprise that special person in your life with a gift which she will remember and wear with great pleasure because it's from you. That special person can be your mother, grandmother, sister, wife, fiancé, girlfriend, best friend, cousin, aunt, god mother, grand daughter, daughter in law, mother in law, and the list can go on… What other way to remind her how much you love her? A simple string of delicate pearls is a timeless piece which never fades and never fails to enchant.
10 PEARL ANNIVERSARY GIFT IDEAS FOR HER
We selected 10 of our pearl jewelry items that represent unique pearl gifts for her. Some of them can be bought individually and some of them can be combined. Take a look!
1. The Pearl Earring Pair in Connor White
Timeless, elegant and purely indicative of times past this White Pearl Earring Set shows that the combination of sterling silver, white pearls and old world charm never go out of style. They are absolutely adorable and noticeable! This is a very accessible, but veritable pearl gift!
2. The Pearl Necklace in Single White
The pair of earrings from above can be paired with this beautiful Pearl Necklace in Single White. It is a classic piece which can be worn at formal occasions and casual environments as well. If you're looking for the perfect pearl wedding anniversary gift, look no more! This is it!
3. The Pearl Necklace in Chloe Black
This long string of Pearl Necklace in Chloe Black represents a unique mix of black and white pearls. This pearl necklace would be an ideal pearl gift for the woman who likes to experiment and to express her creativity. It can be worn in at least three different ways (we'll write a separate post to illustrate this) and we can guarantee that she will delighted!
4. Pearl Necklace in V-Neck White
If you want to make a big statement, then this Pearl Necklace in V-Neck white will definitely help you! Powerful, yet so graceful, it can be an amazing pearl anniversary gift that will sweep her off her feet!
5. Pearl Bracelet in Double Strand White
With a scent of sophistication, this  Bracelet in Double Strand White with petite 6-7mm pearls is a truly amazing  pearl gift for the delicate woman in your life. Her smile will blossom instantly!
6. Pearl Necklace in Double Strand Lavender
This Necklace in Double Strand Lavender is a charming pearl anniversary gift that expresses a lot of charm and elegance. This gift is perfect is a stunning choice for the woman constantly looking for the right color and set that can make her current wardrobe look fresh and new. Go for it!
7. Cultured Pearl Bracelet in Lavender
You can never go wrong with a pearl gift in lavender color. Plus, it can be paired with the pearl necklace above. Soft, delicate, and ready to be worn at the lunch date you prepared for her, this Pearl Bracelet in Lavender is a superb pearl present! You'll see it will bring sparks into her eyes!
8. Pearl Earring Pair in Claudia White
The near perfect button shape of this Pearl Earring Pair in Claudia White goes very well with the cubic zirconia accent gems embedded within each swirling swirl. This earring set is an amazing pearl anniversary gift for the women who likes to dress to impress. She will be noticed and you'll definitely be remembered!
9. Pearl Ring in Chantel White
Out of all these ideas of pearl presents for anniversary, this Pearl Ring in Chantel White is perfect for the grown-up woman, with a taste for fashion, who especially likes to wear white pearl rings. You will totally amaze her!
10. Pearl Pendant in Athena White
Simple, yet extremely classy, this Pearl Pendant in Athena White will beautifully adorn her neck. It is a piece which can be easily incorporated in an out. Just like the other pearl gifts, it will bring joy and smiles!
In the end, these are only few pearl anniversary gift ideas, but you can definitely find other options or even check the new arrivals in our online store. We hope we gave you some useful tips and whatever choice you make, we are certain she will be thrilled! Pearls gifts are adored by everyone who appreciates elegance and classy attires, so dare to surprise her!
(Visited 318 times, 1 visits today)