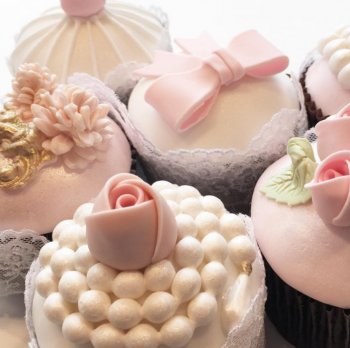 Today's blog post is extremely sweet and it's for all of you who have a sweet tooth for cupcakes and pearls! So we combined them and gathered pearl cupcakes that are suitable for all kind of anniversaries. Frankly, you don't even need a special occasion to eat them 😊, you should treat yourself from time to time without having a reason. All in all, since we covered pearl wedding cakes in a previous blog post, and because many of the bakeries replied a bit too late, we decided to continue the theme and create a second blog post (about cupcakes with pearls) and a third part (about pearl decorated cakes for different anniversaries) in order to cover more sweets with pearls.  So keep reading, because we're pretty sure you'll be tempted to create many occasions in order to serve them!
We would like to thank all the cake shop owners who agreed to be featured on our article! We acknowledge all the hard work that is behind every little piece of edible art. All the photos are from their Instagram accounts. They work everyday with grace and passion to craft beautiful cupcakes and to make our celebrations memorable! Kudos to all of you who go above and beyond to actually create memories!
Pearl Cupcakes – Amazing Edible Sweets
Angelic Desserts
We also showed you some lovely pearl cupcakes from Angelic Desserts on our previous article. Here are a couple more!
Cake Couture by Susan McEvoy
Susan's cakes were also displayed on our article about pearl wedding cakes. These pearl cupcakes are absolutely divine!
Cotton & Crumbs
At Cotton & Crumbs they don't create only pearl wedding cakes, they also put pearls on top of cupcakes. And they do it with true elegance!
Creative Baking
Run by Joanna, a busy mom of two, Creative Baking is a lovely bakery, where passion meets creativity and best quality ingredients. Besides cakes, Joana creates bespoke designer cupcakes, fairy cupcakes, mini and giant cupcakes. Feel free to check her website to find more options.
The Designer Cake Company
The Designer Cake Company is owned by Isabelle Bambridge and it's based in Gateshead, Tyne & Wear, UK. Isabelle is truly gifted and Having discovered that she had a talent for designing and making cakes, she started teaching herself the techniques involved and quickly found that there was a demand for her talents among friends and family. You can find more cupcakes on their gallery. We will also show you some pearl decorated cakes in the next article!
Doux by Anni
Anni is a gifted baker who is passionate about what she does. Her work includes cupcakes, cake pops, dessert tables, cakes and gift baskets. And these pearl decorated cupcakes clearly illustrate her passion!
Fancie Buns Cakery
Run by Emma Woods, Fancie Buns Cakery is a UK Award Winning Wedding Cakes & Dessert Tables. They create cakes and cupcakes with style and they also offer cake decorating classes. Dessert tables have become one of Emma's specialities, but you should see for yourself!
Graceful Baker
We already said that Grace works with grace, and this is also shown by her pearl cupcakes!
Jenny's Cakery
Based in Sidney, Jenny's Cakery creates all sweet treats for every special occasion. These pearl decorated cupcakes are absolutely adorable! And you can find more if you look for them on Facebook.
Jill's Sweet Creations
Owned by Jill Mahon, Jill's Sweet Creations is a home-based bakery specializing in custom cakes, cupcakes, cookies & other sweets for all occasions. You can also find them on Facebook. Look at the tiny pearl details! They are exquisite!
Leslea Matsis Cakes
Owned by Leslea Matsis, a Wife and mum first and foremost with cakes in between, Leslea Matsis Cakes knows how to decorate cakes and cupcakes.  We could only find this pearl decorated cupcake, but make sure to check her gallery on IG or their website.
Mimi's Cupcakes
Mimi, the owner, is a truly talented cake designer who also offers classes and private tuition. The cake shop is based in Switzerland so you can either go there for a visit or check the gallery.  Her pearl cupcakes are really magnificent!
Mila's Sweetcret
Created by Mila, this bakery with amaze you with the diversity of sweets they are able to craft! These cupcakes with pearls will make you think that you're Alice in the Wonderland 😊.
Oh, Sweets! By Lena
At Oh, Sweets! By Lena they specialize in custom desserts including cake pops, cookies, cupcakes, and of course cake! They recreate the theme you want and bring your idea to life. You can see more of their work on Facebook!
Pearls and Crumbs by Ushba
This cake shop is owned by Ushba Adil, who is a self taught cake artist based in London, skillful enough to create bespoke cakes, cupcakes, and cookies. As the name suggests, they love decorating their cupcakes with pearls!
Ruffles & Pearls
Based in East London, Ruffles & Pearls create vintage inspired wonderful cakes, cupcakes and cookies. These pearl cupcakes look absolutely dazzling and we adore the vintage details!
Sugar Crush
Sugar Crush is owned by two sisters who design cakes together! For them, every cake has a story to tell, therefore they will go the extra mile to fulfill your cake order. For more of their work, check their website. We just love how real the pearls look on these cupcakes!
The Posh Cakery
The Posh Cakery is a licensed and insured amazing wedding cake & groom's cake business.They also create stunning pearl cupcakes and these are just a few examples of their work. You can also find them on Facebook.
Tishy's Cakes
Tishy's Cakes is owned by Asmma, mother of Tishy. Her love for her daughter and baking, led her to open this bakery in 2009. Her motto " keep open mind and pure heart and success will follow" is inspiring her every single day. Here are just a few examples of her work, but you can see more here.
SJ Cake Studio
We loved their cakes and we also love their cupcakes! They work with finesse and delicacy.
Specialty Sweet Creations
Yvette Lewis is the person behind Specialty Sweet Creations and she's a wonderful baker, always eager to please her clients. Make sure to check more of her work here.
Tart Bites
We are already familiar with the pearl wedding cakes they create, so here are more examples of their talent: cupcakes with white pearls on top!
The Pretty Sugar Cake
Apart from wedding cakes, The Pretty Sugar Cake creates marvelous pearl cupcakes. Just take a look and you'll see how creative they are!
To conclude, we would first want to thank to all of you who shared our article about 68 dazzling pearl wedding cakes. We are happy to see you liked it and we encourage you to do the same if you enjoy this blog post too. We hope you found some more inspiration and some great ideas that will help you plan your event or celebrate Mother's Day (for those of you have this holiday in May). Remember to plan every event with the cake artist whom you feel is closest to want you really want!
(Visited 453 times, 1 visits today)