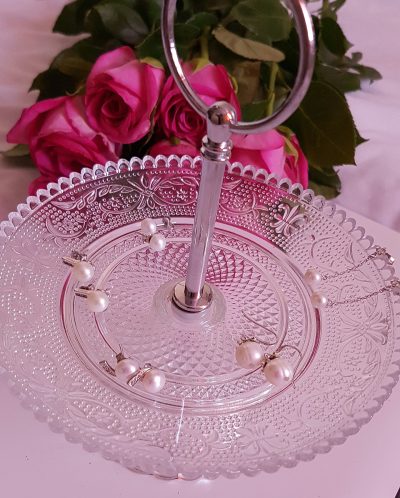 Today's post will show you some elegant pearl earrings that will absolutely confirm the fact that less is more. We are pretty sure we can all agree that simplicity will always be appreciated. There's something special about it: it's timeless! Simplicity in fashion  will never go out of style. And simple, but real pearl earrings help you achieve a spectacular look without too much effort. So keep reading to find out how the right pair of pearl earrings will give you a flawless look!
Simple accessories mean elegant accessories, and when it comes to earrings, you can easily fall into another zone. If you're wearing too  many items in terms on clothing or accessory pieces, then you'll have to coordinate all of them really well.  These elegant pairs of pearl earrings will show you how you can create a stunning outfit just by picking the ideal accessory.
7 SIMPLE, YET SO ELEGANT PEARL EARRINGS 
PEARL STUD EARRINGS
You may remember this pair of pearl earrings from the previous article. It is definitely one of our favorite pair of white pearl earrings, and this is because they are absolutely a go-to-choice when you want to look charming. The brilliant polish radiates off its zirconia neighbors to create intriguing rays that race along the gleaming sterling. Combined with an elegant hairstyle, this sterling silver pearl earrings will bring you many remarks!
Do we dare to say that wearing these simple pearl stud earrings is the safest and easiest way to look elegant?  Yes!  This is the classic and classiest version of pearl earrings without any doubt! Your grandmother wore them, your mother wears them, your daughter is or will wear them too. They are the pearl accessory that will be passed from generation to generation without becoming obsolete. These white pearl earrings are a compliment to any formal attire. Being so versatile, they can be worn at weddings, dates, at the office, parties and the list goes on. Their size is perfect for any face shape and they definitely allow you to mix and match endless outfit options.
Are you a "Valery"? Let's find out! Do you like beautiful white pearl earrings with a silky and radiant surface? Do you wear elegant outfits and your hair behind your ears? And last, but not least… Do you like to flirt while having a glass of white wine? Then this timeless classic pair of pearl earring studs is for you! 😊 Part of the Black Label Collection, this silver pearl earrings also has sparkling cubic zirconia stones, which creates a sparkling atmosphere where two radiant and enchanting worlds meet and become one fascinating piece off perfection.

PEARL DANGLE EARRINGS 
WOW! This lavender pearl earrings will definitely amaze you and those around you! Lavender is such a delicate color and it gives a sophisticated touch to this pearl dangle earrings. Notice the two descending circles that each holds a fascinating cubic zirconia? Marvelous! We can guarantee that you'll receive tons of compliments. Moreover, they represent a perfect gift for the woman who loves attention!
This drop style dangle pearl earrings are absolutely gorgeous! The utterly delicate white pearl gives this pair of sterling silver earrings an alluring and sensual beauty. Once again, pearls show us that less is more. You don't have to spend a fortune to look fabulous, and you don't have to wear oversized accessories to compensate for the simple line of clothing. With this pair of dangling pearl earrings you'll be able to wear anything! Even the wedding gown! With the elongated pearl shape, they might be your first choice if you are planning to wear an off the shoulder (wedding) dress.
We love pearl dangle earrings because they express a lot of elegance. This pair of white pearl earrings is amazingly graceful. Sometimes diamonds and pearls can coexist in the same setting and this is a beautiful example of how the diamond shaped studs compliment the radiant pearls. The cubic zirconia gives the dangling pearl earrings extra shimmering effects which all together, will pop a lot of compliments, dear!
This petite pearl earrings set is truly adorable! They go extremely well with black dresses, casual outfits or elegant blazers. The playful dangling pearls give them a delicate touch! If you want to show them off, then wear your hair up and pick a silky dress.  Take the Freshwater 925 Sterling Silver Pearl Earring Set and begin to build your legacy today. Your daughter will definitely thank you! 🙂
In conclusion, we hope you got a better idea of how our pearl earrings can express simplicity, elegance, grace and femininity.  You can buy really expensive earrings and not feel anything for them, or you can buy pearl earrings and you actually get a memory. It's not about the gift, it's about how it makes you feel. And when it comes to pearls, each of them has a story, a shape, an emotion. We inspire from the woman's beauty to create elegant and easy to wear pearl stud earrings and simple, yet so charming pearl dangle earrings.  Their finesse will last forever!
(Visited 191 times, 1 visits today)