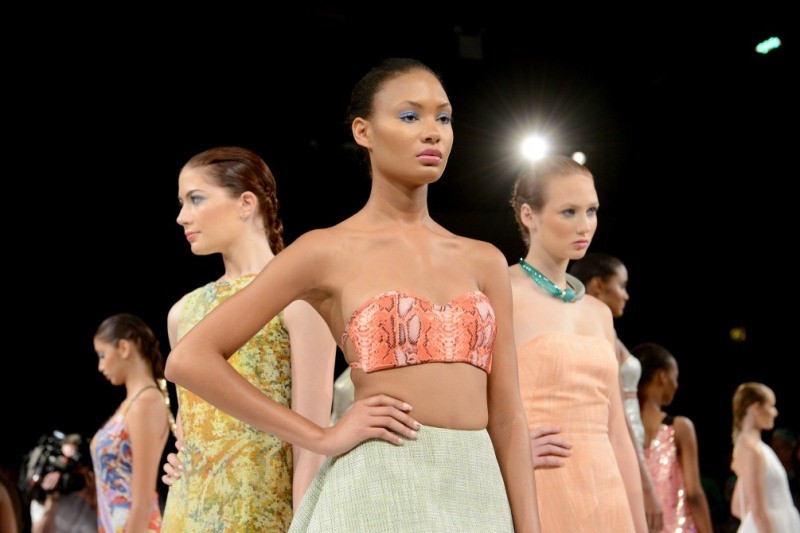 Mercedes Benz Fashion Week (NYC)—The CZAR BY CESAR GALINDO 2015 Spring/Summer Presentation at The Hub at The Hudson Hotel on Sunday, September 7th was filled with multi-colored and super chic clothing that had us floating on a cloud.
The collection entitled, "The Get Away Collection" featured bright and sunny colors, chic patterns, modern cuts, glittery sequin and well-designed looks fit for a goddess.

Galindo, a very accomplished and dedicated fashion designer, master tailor, skilled draper, and a creative visionary stayed humble as he interacted in a meet-and-greet fashion with those in his audience, from professional editors to fashion bloggers, everyone got a welcoming feeling from the professional designer.
The atmosphere was very fashion-forward and creative with not only beautiful models displaying the artistic and talented work, but also numerous sketch artists who created wonderful masterpieces of the designs worn by each model.
Some of our favorite pieces are the silver metallic goddess inspired dresses, the long maxi fitted skirt and matching bralett; the snake skin colored bralett with layered skirt, artsy patterned jumpsuit, and the pink and also the green sequin dresses. Each of these pieces is up-to-the-minute and also very perfect for the enjoyable and warm seasons.
Fashion Forecast for CESAR GALINDO: We think that women will really enjoy this season's collection because the pieces allow you to have fun with your clothing while remaining chic and up-to-date in fashion.

Trend Report (what has been seen on a few runway shows for Spring/Summer 2015):
Colors- Tans, Peach, White, Pink, Black
Pretty Pastels
Bright Metallic's
Snake Skin Print
Braletts
Long Fitted Maxi Skirts
Layered Skirts
Patterned Jumpsuits
Sequin Dresses
Strapless Dresses
Check out the images of the collection below:
Coverage Provided by: Ms. Elitou (@tweetyelitou) // Photos: mbfashionweek.com
(Visited 143 times, 1 visits today)